Considering how much you invest on your bike and gear, it would be sad to have everything come tumbling down because you did not follow up with maintenance. Luckily, with most bikes most of the maintenance does not require you to have a lot of related knowledge. You can be able to avoid crippling bike shop bills by doing some due diligence with your bike like constant cleaning and even checking the pressure in your tires or making sure you have the right bike chain lube.
One area that will require constant care is the bike chain. It is the most active area with the bike and without proper care you bike chain could go from being the heart and work horse of the bike and your joy to a painful collection of metal parts that are constantly failing and breaking. Again the chain does not require a lot of your attention. Just proper lubricating and using the best bike chain lubes to ensure that the chain is in the best shape to keep powering your bike and at the same time keep your hobby going.
Just as it is with buying the bike, your gear or other additions like the best bike lights or even the best bike sunglasses, the golden rule of thumb is to make sure that you continue with buying the best products you can especially these that will be taking care of your bike. Most people will settle for just about anything that can keep the chain well lubricated. A closer look at this shows just how untidy and messy this can be and in the long run, it can even contribute to the bike chain breaking and failing to function. You have to ensure that once again you go all out to get the best bike chain lube. You can rest assured that it will only cost you a fraction of what it would cost you to have the chain replaced. With that in mind, here are some pointers that would be great in helping you buy the best bike chain lube you can find in the market.
How to buy the best bike chain lube
Consider the weather
Before you even get into the thick of things and start considering the features that a good bike chain should have, your first nemesis and one that you should be very critical about is the weather. During wet weather, you don't want a lubricant that is too light. The same is the case if you ride a lot on muddy and wet trails. Why? If the lubricant is too light, then you run the obvious risk of having the lubricant washed right off if it is too light. That would mean you leave your chain in the open and undefended. Instead, if the weather is wet, you need a lubricant with a thicker consistency so it's not washed away.
If the conditions are more arid, then you can go for a thinner and dry lubricant. The best way to approach the situation since you never know where your love for cycling will take you is to have a bottle of each. That way, when the weather is wet, you have a lubricant that you can use and when it is dry, you also have a ready option.
Once you have dealt with the weather, you should also know how to apply the lubricant right. Most of them will come in squirt bottles which makes it easier to deliver precise doses to each link of the chain. You might want to use a dry cloth to blot off the excess. Next, you need to consider the different features that technology has added to lubrication.
Grime deterrent
The biggest concern with using lubes on bike chains is the grime that later builds on the chain. Naturally, after getting the job done, the lube then proceeds to attract and hold dust and other forms of dirt. As a result you have a bike chain with a thick coat of grime. There are Grime deterrent wax based varieties. They go from wet to dry then into a dirt repelling film. This keeps your bike chain looking new and in pristine condition. However, this does comes with a small price to pay. First, wax based lubricants are not very good at reducing friction. Second, the wax builds around the links so you might have some cleaning to do after some time.
Teflon boost
You need less energy to turn the cranks and with less energy, you also reduce the chances of the chain breaking. Most of the wet and dry lubes in the market currently include a chemical known as PTFE which is better known as Teflon. It is a compound that has impeccable friction reduction properties which ensures you spend less energy and your chain has a longer and more productive live.
Eco-Friendly
In this case, you have a choice to make. Most lubes in the market are derived from petroleum. While these perform better, they do harm the environment. There are a handful of bio-degradable vegetable oil. While they do help to preserve the environment, they're not as slippery and because of that they're not considered to be the best lubricant. Which is why you have to make the choice between improving the performance of your bike or settling for less and reducing your impact on the environment.
Buying the best bike chain lube is not the end of things. You have to know how to use it. You should always start by cleaning the chain of any previous grime and dirt that it might have collected. There are products that you can use to make this a much easier process. After cleaning shift the middle sprocket at the front and rear to reduce the tension of the chain. This makes it easier for the lube to penetrate. After carefully applying the lube to both sides of the chain, slowly turn the crank backward. Wipe any excess before taking a ride. Pretty simple.
Four Chain Lube Reviews
With the rich number of options that the market has to offer, being armed with a great guide might not be enough. Which is why there are reviews. These are among the best bike chain lubes in the market and they will definitely cut down the options and make it easier for you to pick a great product for you.
Finish Line DRY Teflon Bicycle Chain Lube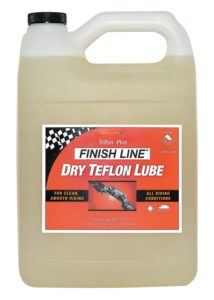 The Finish Line Dry Teflon powered chain lube is among the few that will give you the better of both worlds. It goes on wet which makes it easy for you to apply. Worry not, the wetness does not quickly become a magnet for dirt. Instead, it dries up and forms a wax-like film. Hence, your chain not only stays well lubricated, it also stays clean since the film helps to reduce the dirt and grime that get to the chain.
By opting for the Finish Line DRY, you will also be pairing yourself with one of the most popular product among the cyclists which has been tried and tested and has a mountain of positive reviews to go with it. If you're relatively new to the scene and not technical about your lube, this is a great choice for you because you can simply work with the experience of others. In this case, those experiences happen to be really great.
The lubricant also happens to be very versatile and can be used on a wide variety of bikes whether they're on-road or off-road bikes. The lube is made from synthetic oils with added Teflon for a super slick and long lasting performance that saves you energy and money in the long run.
If you're looking for a great lubricant that is ideal for most of the typical cycling conditions, there is no doubt that this is going to be a great option for you. It is easy to apply, works great and protects your chain from the dirt and grime. However, it is not bio-degradable.
White Lightning Clean Ride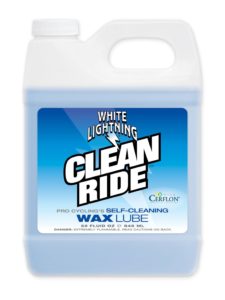 Most riders usually have a great concern with grime on the chain of the bike. Maybe because this usually has a way of getting to the rest of the attire and gear of the rider. With the White lightning clean ride, this might turn to be a thing of the past. It comes in a drip and squeeze bottle that makes the application relatively easy.
The self-cleaning action of the lube is immediately activated by any dirt, grime or even grit as soon as it finds its way to the chain. While it goes on wet, it sets up dry and forms a dry wax film. That way, you have no oily residue that will attract the dirt and other abrasive contaminants.
The formula of the lube helps to shed dirt of the chain as you ride. That way you not only keep your chain in great condition and well lubricated, you also have a clean chain that does not frustrate you because of the grime stains on your attire.
It is a great lube that embraces the best that technology has to offer. It is quite easy to apply and offers instantaneous results. But once again, for the lovers of environment, it falls short once again since it's not made from bio-degradable materials. Also there is no Teflon in this.
Tri-Flow TF0021060 Superior Lubricant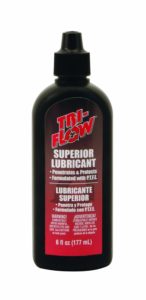 This is yet another great product to have for your bike and more so for your chain. It is not only meant to provide your chain with the lubrication it needs but also a cleaning power that will soften and get rid of grime. You can consider this as a two in one that will save you from having to buy other cleaning products for your chain.
It is formulated with solvents that help to clean, and remove dirt and other contaminants. Its light viscosity make it easy for the rider to apply and also cuts down on the time that the lube requires to penetrate the joints of the chain and other hard to reach areas and moving parts of the bike.
The high grade selection of petroleum oils that have been selected for the making of this lubricant allows the chain lube to offer optimum results even under extreme conditions which you will find yourself and your bike in most of the time. Among the collection of oils is PTFE which is an additive that improves the lubrication quality of the lube and allows it to offer the chain more protection and smoother running while requiring less energy from you to turn the cranks. PTFE also helps to protect the chain from other factors like metal-to-metal wear, rusting and even corrosion all of which are real threats to the life and performance of your bike.
It is worth noting that this lubricant works best in temperatures of between 60 degrees to 475 degrees Fahrenheit. The wide range of temperature tolerance is also an added choice that makes it much easier for you to make the choice and understand when to best use the lube.
This is a lube that is able to play defense for your chain as the chain plays offense for you. It is able to offer you great results without imposing and allowing you to have a great time and spend less. It is well endowed with oils that will lubricate, protect and lengthen the life of your chain and ensure that you have top performance from your bike at all times. The addition of Teflon is also a great plus that needs no introduction and should prove to be a great plus to anyone that is looking for a top performance chain lube.
On the other hand, it might cost you a little more and at the same time, it is not biodegradable hence not very environment friendly as many people would prefer. But it is a small price to pay considering all the upsides that it has to offer.
Conclusion
The best bike chain lube is just as critical as having the best bike. You have to make sure that you keep your bike in good shape at all times. If you take care of it, it will also take care of you whether it is in competitions or just for your friendly morning ride. And the best way to take care of your ride is to make sure the chain is always in great shape. Needless to mention, you will also save yourself from having the constant scrub downs in laundry that come as a result of having grease and grime on your clothes.