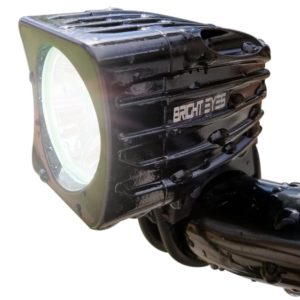 Bikes are a great way to get around especially during the day. However, with inadequate lighting, not only does it become hard for you to be able to see where you're going, it also poses a threat to your safety because other motorists are not able to see you. It is a danger that has quite a simple answer and a very affordable one. Bike Lights! Most bikes don't come with them. And those that do, they're usually of poor quality and not of much help.
If you would like to continue enjoying the benefits of having a bicycle regardless of the time of day, bike lights are a must. They will not only keep you from being run over by the other motorists, but also shine your way as you ride around. Before you get excited, you first have to know what comprises of the best bike light and the features that you need to pay extra attention to.
What to consider when buying the best bike lights
Output
The first thing that any good bike light should have is sufficient lighting. This is what is referred to as output and it is usually measured in Lumens. The light should be bright enough to light up the night but not too bright that it blinds other road users. A lumen is the measure of how bright the light is to the eye.  Tail lights can range anywhere between 5-100 lumens while the front lights usually depend on the use. However, they can range from 10 to couple of hundred lumens for the commuter bikes and even to thousands for the off-road bikes.
Batteries
There are still some bike lights that make use of the disposable alkaline batteries. However, not only do these prove to be expensive in the long run, they contribute to the land fill and are not as powerful. Most of the more modern bike lights make use of rechargeable batteries. The most common among them are the Lithium Ion (Li-Ion) and the Lithium Polymer batteries. They are lighter, smaller and more powerful than the disposable options. Based on these benefits, they are considered better options for bikes.
In the same light, you might want to look at the charging options as well. For the stronger lights, this might take a longer time especially when charged via USB. Some do offer you the option of a mains charger to quicken the process. If you use the bike light frequently, you might seriously want to look into the modes of charging that are available for it.
Light Mounts
The best bike lights do not come made for any specific bike. Instead they have mounts that allow you to attach them to the bike on different parts. For the rear lights, the most common type of mounting mechanism available is strap mounting. You simply wrap around the handlebar or the seatpost and that is about it. A strap mount is convenient because it's easy and fast to remove and is perfect for commuter biking. It does not present a lot of hurdles and you can remove the light during the day.
For the front lights, the most common mount is the bolt on bracket. You might still find a couple of front lights that attempt to use the strap mounts with some success, but the bolt on bracket happens to be the most popular. A good number of the best bike lights are slightly heavier and hence flourish better with such a mechanism. The bolt and bracket system is particularly great if you happen to ride on a rough terrain since you don't have to worry about adjusting the light all the time.
Battery life indicator
You never want to be a victim of surprise. Even with the best bike light, there is very little that you can do when your light runs out of juice. To avoid this, you might want to opt for a light that comes with a battery life indicator. A good range of them do. That way, you know how much battery life is left and you can plan accordingly. It might seem like a small feature but it is one that can save you a lot of trouble and having to push your bike all the way home.
Consider the use
When bike lights, you also have to consider the scenery and type of use. There are those that are best suited for commuter use and those that are best for off-road riding. You might also opt to have safety lights which will have one constant lighting mode and then have a couple of other flashing modes. These are best used for commuter purposes to help attract the attention of other motorists to your presence.
Reviews
Ensuring that you have the right light for your bike is just as important as ensuring you have a light in the first place. Which is why it is imperative for every rider to take time while selecting the best bike lights. Here are some great suggestions that would work pretty well.
Bike Light Comes with Free Tail Light and Installation Tools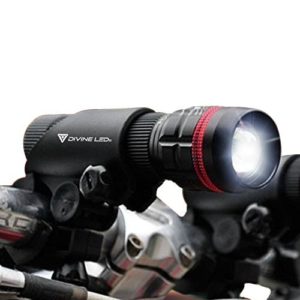 A great bike light is not all about being able to shine away the night. There are other features and factor that play a significant role in deciding which bike light will work best. With thousands of purchases, this bike light is definitely among the best bike lights you will ever come across. It is the perfect comparison to what a great bike light should be and it has countless reviews to show for this.
The bike light is made from the all so glorious LED technology which allows it to shed a lot more light without reducing the longevity of the bike light. It has been made for durability, effectiveness and to be reliable to every rider.
The bike light does not require any tools to attach to the handlebars of the bike and attaches in a couple of seconds. If you're not the Handyman type of rider, then this would be a great purchase for you.
To assure you the light is of good quality, it is made from military grade materials and handcrafted with the best and also waterproof materials. No matter the nature of the road or the weather, the light will be able to handle the pressure quite easily and offer you some much needed reprieve and lighting.
The ease of installation, use of LED technology and the durability of the light are the main benefits of this light. However, it does not come cheap and even the manufacturer is not afraid to say it. But, it would be unfair to classify it as expensive since it does give you value for your money.
Bright Eyes Rechargeable 1200 Lumen Mountain, RoadBike Headlight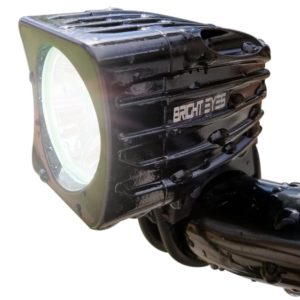 If the lighting is the greatest concern for you, then this 1200 lumen light will more than cater to that. Other than the incredible lighting, the light has been built with CREE LED technology that maximizes on the light.
To keep it shinning, the light is powered by a 6400mAh battery and comes in three lighting intensity. When set on high, the battery is able to power the bike light for about 3 hours and about 5 hours when set on medium and more than 26hours on low. The different light intensities allows you to be able to use the light during different parts of the day.
The light can be used on Mountain bikes, and can also be used while running. It is ideal for camping and hiking as well make it somewhat of a jack of all trade. With a lifetime guarantee on the bicycle headlight and a one year warranty on the battery, you're guaranteed that you're making the right purchase and a light that will be able to serve you for a long time to come.
Despite its ability to deliver on lighting, it can't be said that the light is easy to install. However, having a free tail light, sufficient light and a super powerful batteries sort of try to make it up for that. Luckily, the light is also very affordable but, other than the battery being waterproof, the light itself might not be able to take in as much water without having problems. But, without a doubt, it will give you quite a good run and value for your money.
Bright Eyes Aircraft Aluminum Waterproof 300 Lumen LED Bike Light Set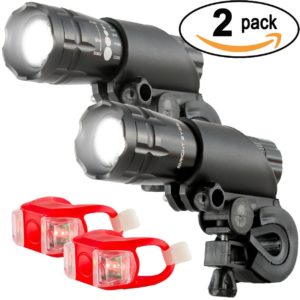 You spend quite a fortune to make your bike look great. There is no reason why all that money should go down the drain as a result of not having classy yet functional headlights. This set offers you plenty of functionality and at the same time gives your bike the ability to improve its appeal.
The set of light uses the bright CREE Q5 LED technology and is adjustable from 80 to 300 lumens. This is for your safety. The light is quite efficient in virtually any situation that you might find yourself in from the dark roads all the way to a storm.
The installation is relatively easy without the need of tools and you also get a lifetime guarantee with the lights just so you know you have your finger on the right bet.
Because this comes as a set of two, it is not only economical but can be put to multiple applications. You can either separate them and have one attached at the back or even use them on two different bikes allowing you to save even more money. The lights are waterproof and quite functional with a great but small design so you're able to maintain the demeanor of your bike. Not only are they good for off-road, they can also be used on commuter bikes and on roads as well. Needless to mention that the adjustability is also very unique addition that allows you to use the light during different times of the day and night. It's a value added pack since you also get a pair of tail lights.
However, it is not definite how long the battery lasts but you can be sure it would be enough for your ride home. Other than that, you should find these to be a pretty decent set for a pretty decent price.
Vision II 860 Lumen USB Bike Light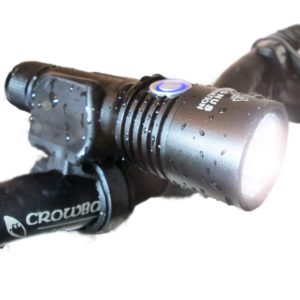 For riders that are not entirely sure of the kind of light that would fit on their bike, the Vision II is a safe bet that fits on virtually all bikes so you don't have to risk. Other than the comfort of knowing that you don't have to make a dash to the store to take it back, it also offers a great collection of benefits and features.
The headliner is the 860 Lumen brightness that allows you to cut through the dark and make you more visible while riding in low light intensity. The product also comes with a risk free lifetime warranty so you don't have to worry about the quality and durability of the bike light.
The batteries of this bike light are also fully rechargeable meaning you never have to worry about buying replacements once the batteries run out. Even better is the fact that you can be able to enjoy up to 25 hours of light with one charge. You never have to be caught pants down ever again. Another meticulous addition with this bike light is the front mount. Unlike a great deal of the other options you might come across, this particular one has been built to be completely adjustable and fit even the thickets handlebars or the smallest that you might come across.
The casing of the bike light is made from aircraft grade aluminum alloy and embraces water resistant construction ensuring the best possible experience in all weather conditions. Definitely a must have for any rider that takes his ride seriously.
With the ease of use presented by the bike light and the ability to mount it on any bike, it is among the least troublesome products of its nature that you will come across. However, with no additions like a rear light, you might have to dig a little deeper but it will be definitely worth the price.
Conclusion
About 70% of all bike accidents are as a result of lack of visibility. This can be mitigated by ensuring proper lighting during the night. For this, you need to have a proper headlight for your bike and a couple of rear lights where applicable. Every rider should take it upon themselves to get the best bike lights and this guide takes you through the step by step process of being able to achieve exactly that.