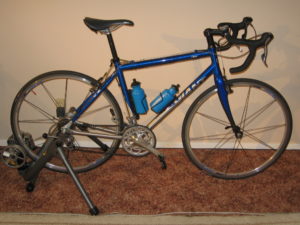 Do you own a bike? How would you like your bike to be your trainer? It is possible. The notion that gyms are the only place that can offer you fitness and a cardio workout are highly misguided. There are other great ways to work on your lower body strength and offer you the best chance of ensuring that you have the speed, cardio and stamina you need for a healthy life. Needless to mention, these methods can also be far less costly and more effective. For instance, investing in bike trainers!!!
A bike trainer can be a very handy tool when it comes to working indoors and getting you to break a sweat. It is also known as a stand bike trainer or a turbo bike. It is a simple machine on which you mount your bike on. This allows you to get the realistic feeling of riding a bike without covering actual distance. The rear of the stand has a wheel. This wheel applies different resistances which can work as different levels of effort you need.
While bike trainers are quickly growing in popularity, getting the best bike trainer will require you to have a bit of knowledge, some luck as well as some hands on experience which would make it much easier for you to make the right choice. Chances are, other than the luck, you might not have much of the rest. Luckily, you're in the right place.
Types of Bike Trainers
The best bike trainers come in different designs. These are usually dictated by the type of resistance that is being provided by the flywheel. There are about four different types of bike trainers that you can choose from.
Fluid: for these types of bike trainers, they employ fluid chambers and a magnetic flywheel to generate resistance. The perks of owning a fluid bike trainer is the silence of operation and you can add the resistance progressively. However, the flywheel in this case does tend to overheat as a result of friction not to mention you run the risk of leaks.
Magnetic: for this the flywheel simply creates a resistance for the rear tire. They happen to have a very smooth and silent functioning but are liable to breaking and do not offer a vast range of resistance.
Wind; these are perhaps the most basic turbo trainers that you can come across. They have a fan which is powered by the pedaling action of the cyclist. The wind that is generated is the one that proceeds to provide resistance. So, the faster you pedal, the higher the resistance. They provide a feeling that is similar to cycling on the outdoors but they tend to be noisy and you only get a small amount of resistance in the process.
Centrifugal: if you have the budget to match, the centrifugal bike trainers are the best bike trainers that you can come across. They have pressure plates which provide resistance to the rear tire. They offer you the ability to adjust the resistance can be adjusted and they also have a relatively silent mode of operation. Under extreme use, they also tend to be prove to breaking down.
What to look for in the best bike trainers
Other than understanding the different types of bike trainers that you can find in the market, you also need to know the kinds of features that you need to be looking for to land the best bike trainers. These can be a handful but can be narrowed down to the most basic so you're able to make the most use of the stand bike trainer and enjoy the comfort and convenience it has to offer as well.
Stability
It won't be a great buy if you have to keep toppling over every now and then. The best bike trainer has to be stable enough. It helps to elicit more confidence while using the product not to mention keeps you from falling over.
Features
These might vary depending on the type of trainer that you settle for. For instance, if your trainer tends to overheat, you need to have features that help cool it down so you can be able to use it for longer.
Portability
If you travel a lot, you might want to consider a bike trainer that is portable and travel friendly. You can opt for a small looking one or looking for a foldable design. This way you can fit it in one of your luggage and take the action wherever you go.
Resistance
It wouldn't be much of a trainer if it did not have resistance to it. However, as you get used to it, you will need tougher resistance levels. Which is why having a wide internal resistance array should be highly considered so you're able to enjoy the use of the bike for longer.
Price range
When looking for quality equipment, price should never be a concern. However, you also need to factor in your financial flexibility and just about how much you can spend. Nevertheless, this doesn't mean that you settle on the cheapest bike trainer you get. Rather, you should aim to get the best bike trainer for the money you intend to spend.
Reviews
With that information, you can be able to step in a store and make all the right decisions. However, this would take you plenty of time sorting out all the different types of bike trainers that are in the market. To help you save time and effort but still emerge with a great option, here are a couple of best bike trainer reviews that could come in handy and are also worth considering when making the purchase.
Conquer Indoor Bike Trainer Portable Exercise Stand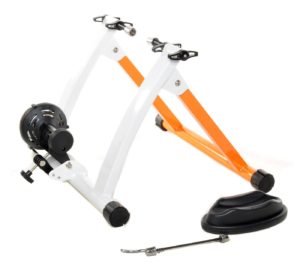 Leading the pack of the best bike trainers is this bike stand from Conquer. It is has simple yet appealing design that you will find to be quite attractive and the wide positive reviews from numerous customers is proof that it is able to meet the different demands and satisfy them. To be able to do this, it has a number of features that are cutting edge and some that will downright impress you.
The frame is the most compelling. It is a heavy duty frame that has an extra wide base that allows for superior and better stability. It also has a foldable design that makes it more compact and easier to move around. While the frame is quite strong, it is not as heavy as one would figure making it much easier to move around.
The mounting clips are quite sturdy and reduce the chances of slipping to a much lower degree. They also come with a quick release mechanism that makes mounting the bike and taking it down much easier and faster.
The resistance is magnetic powered which means you have a silent, effective and high option resistance to choose from. The stand is also compatible with a wide range of bikes ranging from 26 and 27 inches to 700c bikes. As a complimentary, you also get a wheel riser block for your front wheel included so you have the complete set.
With a simplistic design that is functional, with a sturdy and strong base and an effective resistance system, there is nothing wrong you can pick about this bike trainer. Perhaps the fact that they should have added a cooling mechanism. Other than that, it is a pretty neat decision.
Bell Motivator Mag Indoor Bicycle Trainer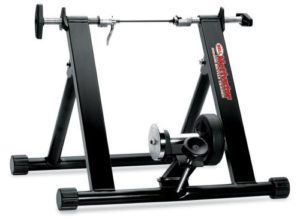 If you prefer to have greater size for better strength and sturdiness, then this bike trainer offers you a formidable option that offers you all that and more. The Bell motivator other than being larger than some of the other options also comes with its own arsenal of features that allow it to improve your workout experience and provide you with better results.
These include a quiet and highly versatile magnetic resistance. It allows you to work through the different levels of resistance hence constantly improving yourself. The resistance has been designed to be progressive and increases as you increase speed. The stand also features double adjustments that make centering the bike for better sturdiness. Despite the larger size, the stand only weighs about 20 pounds and comes fully assembled. It is a great option for users that might not be as handy but want something that comes ready for use.
As if that is not enough, you also get to enjoy a five years manufacturer's warranty just so that you're sure you're investing in the right product.
If you believe in size and would prefer to sacrifice portability, then this would be a good bike trainer for you. It is simple to use, requires no assembly, and comes with a very attractive warranty. However, you do have the chunkiness to deal with but since it is foldable, that might not pose much of a challenge.
Indoor Bike Trainer Exercise Stand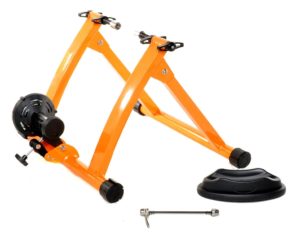 Yet another great bike stand that has been able to withstand demands and meet expectations. It keeps the simple and minimalist approach but that has not eaten away on its ability to deliver and remain productive.
It features a heavy duty construction frame with a wide base for stability. The frame is not only foldable but has been designed in a way that makes that very quick and easy. The mounting cups are highly sturdy and work to reduce slippage. They also have a quick release function thrown in to make it easier to mount and dismount the bike which is very critical.
The single adjustment makes adjusting the bike much easier and the resistance is progressive so you don't have to keep moving knobs around and you can focus on the task at hand. The stand is also able to support quite a number of sizes of bikes among them being the 700c and the 26 and 27 inch options.
Other than being a great option with a wide range of features dedicated to offering you a better and smoother experience, the bike offers a simplistic, light and strong approach to bike trainers. It is efficient and effective and delivers without demanding too much. It is also worth noting that you get a front wheel riser block as well.
CycleOps Fluid Trainer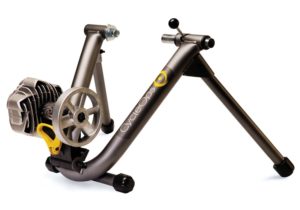 Unlike the ones that have been previously reviewed, the CycleOps is slight different and also features a different mechanism. However, it still works on the same basis and offers more or the less the same results. It targets growing your leg and glute muscles and building your speed on the bike at the same time but, using a different mechanism.
It has a great collection of features. The larger flywheel that delivers double the amount of inertia to give you more of a road-like feel is one of them. It also features a power band technology that offers you with a wide range of resistance levels. You can never be too good for the bike trainer. It will always present you with a challenge which is what every cyclist dreams of.
To keep the resistance going, the bike trainer also feature an infinite curve that assures you of increased wattage as you increase your speed. This means you have two source of resistance making the trainer a formidable force for any rider that would like to grow their riding talent.
The resistance mechanism is bound to heat. Most bike trainers rarely pay attention to this. But given the fact that it drives up the wear and tear, it is a concern that needs to be addressed to improve the life of the trainer. This particular bike trainer comes with a self-cooling mechanism which allows you to use the bike trainer for longer periods at a go and for a long time altogether.
Not only is the CycleOps bike trainer easy to use with a touch of simplicity, it also has some very thoughtful features that are development and building oriented allowing your growth curve to never stop. You can also be able to use it for longer thanks to the cooling system.
Conclusion
The best bike trainers can be the key to you getting your fitness back and improving your stamina. When making the purchase, you need to make sure that you get the best value for your money and the best workout for your body. You shouldn't find this to be a problem anymore. Finding an affordable and effective training method should no longer be a concern for you.