Having sun rays glaring at your eyes as you ride can be a catastrophe in the making. Not only will it make you more liable to making mistakes and miscalculations, it also dents your vision and in the long run, you might have vision problems. In the same light, cycling without cycling sunglasses which are also known as performance eyewear can bring you and the excruciating experience of having a bug crush into your eyes at 20mph on the same podium. Just as important as having the best bike lights at night, having the proper eyewear can be the difference between life and death.
You might have noticed by now that you don't have much of an option when it comes to buying the best for your biking experience. From the bike itself to your gear you always want to invest in the best and safest equipment. Not only for the sake of aesthetics but also for durability, effectiveness and functionality. With that said, the same case applies for the best cycling glasses. Mark you, these should not be just another pair of sunglasses. There are features that make cycling glasses unique and relevant to the sport and it is imperative that you trend as close as possible to those features. To help you know what makes the difference, here is a little guide that will walk you right through.
Features to look for in the best cycling glasses
Lenses
Any cycling pair of glasses is not a worthy product to invest in if the lenses are not up to par. They're the primary reason for you to have a cycling glasses and also a considerable part of the term 'glasses.'
With lenses, the first choice you have to make is whether you would like glasses that have two individual pieces of lens or just one large chunk. In competitive terms, the larger chunk ensures that you have more coverage and in most instances these also extend further to the side of the head giving your eyes more coverage and more comfort.
You will also want to consider if the lenses are interchangeable. The beauty of having interchangeable lenses is that it increases the versatility of the glasses and in future, this can also save you plenty of money while improving the functioning of your glasses. An extra that might also be very helpful when it comes to cycling glasses is having a scratch resistant coating. It helps keep the lens clear and consequently your vision.
The arms
The arms of the glasses are one part of the comfort combo that will have plenty to say. With the arms, the main concern is going to be the tightness and the general fit of the glasses. You have to make sure that the arms are not tight because when worn for long periods, they tend to cause pain and this can cause quite some discomfort.
The bridge
Let's start by stating the obvious. Everyone's nose is different which is why the bridge is the other half of the comfort combo. In most instances, the bridge of the best cycling glasses will have some rubber or soft cover. This doubles up as a comfort addition and also helps the glasses stay in place. The plastic underneath can be quite tenacious to your skin causing grazing which can be particularly painful when in contact with sweat.
It would also be a good idea to get a pair of cycling glasses that have a replaceable bridge. This might set you back a couple of dollars but it is a pristine addition that allows you to have the glasses for other uses as well. As earlier everyone is unique and the only way you can be sure that a pair of glasses is ideal for you is trying them on before you taking them home.
Extra features
There are a couple of other features that would make any pair of cycling glasses better. Even though each of these will further tick the price, they are additions that could improve visibility and the experience.
Anti-fogging- a good pair of cycling sunglasses will come with a substance that is added to the lenses to keep them from fogging. Most of the modern glasses also employ ventilation as a great way of curbing fogging. They have small holes on the lenses that allow the hot air to escape.
Straps: if you make the right pick especially in terms of sizing, the straps might not of much help. However, if you're going to be participating in a triathlon, then without a doubt, having a strap to help keep the glasses on can be a great addition.
Prescription lenses: if you have prescription lenses, you never want to ride without them. If you happen to prefer the old school glasses as opposed to having contacts, there're a number of brands and companies that will provide you with cycling glasses that have prescription lenses. That way you can always bring the best of your sight with your bike.
Casing: having your cycling glasses come in a casing is by no means a deal breaker. But, it is a good addition. You will always be able to keep them safe and away from scratches when you're not using them.
Four Great Sunglass Reviews
It's always nice to have in some added features thrown in. it gives you more value for your money. However, you should not forget what makes the difference and what really matters. This way you're able to get functionality and invest in the best cycling glasses. If you still find trouble finding your way around the glasses, maybe these best cycling glasses reviews can help point you in the right direction.
RIVBOS ® 801 Polarized Sports Sunglasses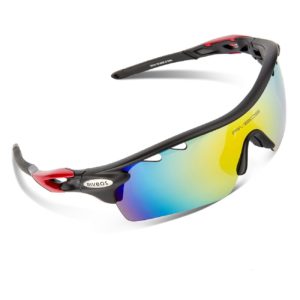 The leader of the pack is the RIVBOS polarized sunglasses. The wide and mostly positive feedback that these cycling sunglasses have received mostly shows how great these sunglasses are. They have a great collection of features and offer benefits that most riders only dream of.
They start off with a shatter proof but quite flexible polycarbonate frame. Basically, you have a super strong pair of glasses that is capable of offering you the best with plenty of longevity in it. It also helps to keep the sunglasses in place without much hustle.
Other than the frame, you also have a 5 pairs of shatterproof interchangeable lenses. The main lens is polarized which allows them to protect your eyes even in cases of intense sunlight.  The other four lenses are colored and are great for different environmental conditions allowing you to have a decent pair of glasses for every occasion.
The sunglasses also feature a 100% UV400 protection coating. This helps to keep your eyes safe from UV rays which research has proven to be harmful to the eyes. If the features are not enough to convince you that this is a great pair of sunglasses, perhaps the fact that it comes with a thirty day money back guarantee as well as a life time breakage warranty for the frame and lenses should do the trick.
With the RIVBOS 801 you have a great pair of sunglasses that are sturdy, unbreakable and have a long life. The lenses are interchangeable so you can pick the one that best fits the terrain and the day. However, with such cutting edge features, you will have to dig a little deeper into your pocket. It would also have been great if the set would have come with a removable bridge as well. However, the lack of this does not affect the ability of the sunglasses to deliver.
RIVBOS ® 805 Polarized Sports Sunglasses
The RIVBOS 805 is a pair of cycling sunglasses unlike any other you might have seen. It features a patented design that will blow your mind and completely change how you change the lenses and as if that is not enough, it also offers you a range of other cutting edge features that will definitely make it much easier for you to fall in love with the sunglasses.
The feature a great and aggressive design with a sporty look which is every cyclist wants. Other than being safe and the functionality, you also want to have a great pair of the best cycling sunglasses that makes you look your best.
With this pair, you get to enjoy the patented lens switching design that makes it much easier for you to make the switch without the risk of cracking the lens or the frame. To make this even easier, the frame is made from a very flexible material which also reduces the chances of breaking the frame. The lenses all feature a 100% UV 400 protection coat that makes them even more protective than just being another addition. Also, all the five lenses are shatter proof with the main black one being polarized. Each of the other four are colored and better suited for different environments.
With this pair you also get a lifetime breakage warranty on the lens and frame. Other benefits include the ease of changing the lenses and also the protection value that they bring on board. On the same note, they also happen not to have a removable bridge which might be a cause of concern for some cyclists. However, the one in place should be comfortable for most of the users.
WOLFBIKE POLARIZE Sports Cycling Sunglasses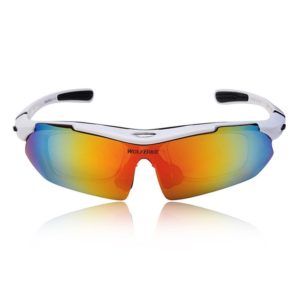 When it comes to women, things have to be done a little differently to find products that work perfectly with their bodies and allow them to benefit just as much as their male counter parts. This is a pair of cycling sunglasses that are made for women. They offer the ability to protect the eyes from the ferocious wind and dust and bugs that might land in your eyes.
The glasses are made to be comfortable and lightweight making them easier to wear for long hours and they also support your eyewear with your own glasses. As a result, if you have any prescription eyewear, you have a pair of cycling sunglasses that can support that as well.
The lens of the sunglasses are made of shatterproof material to make them durable and have an inner frame for the short sighted lenses. While the lenses can be interchanged, the main black one is polarized and is able to protect you from the strong sun. While the other four are colored.
If you're looking for a great pair of cycling glasses with plenty of features and functionalities that are meant with female riders in mind, then this would be a formidable pair that is worth your attention. You get a rich collection of features that offer you flexibility and adequate protection as well as a lightweight pair of sunglasses that you will most definitely like.
However, you don't get a strap with this pair neither do you get a removable bridge. What you do get is a great pair of sunglasses for an unbeatable price with top of the tier features that you would definitely want to have in a great set of good sunglasses for cycling.
J+S Active PLUS Cycling Outdoor Sports Athlete's Sunglasses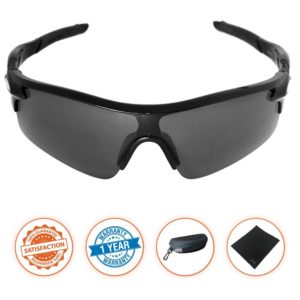 Another pair of the best cycling sunglasses that you ought to consider are the J+S active plus sunglasses. The have just as an interesting collection of features as the other pairs and even though not as much feedback it is quite a formidable and well-designed pair.
The features a 100% UV 400 protective lenses that will protect your eyes by blocking 99% of UVA and UVB radiation and the lenses are made from polycarbonate. They're tough, scratch resistance and are lightweight. Lenses made from PC also happen to be 10 time more impact resistant hence you can rest assured that they will be able to last for quite some time.
The sunglasses have been designed for the tough outdoors and come with clear lenses which ensures that your vision is not inhibited in any war. To ensure that the sunglasses stay in place, they also come with molding that encompasses the frame and ends in anti-slip arms. This keeps them in place even when you're riding on an uneven road. You can also use these for a variety of other outdoor and indoor sports as you would see fit.
Other than the features, you can also enjoy a wide collection of benefits that include the 100% risk free purchase with a 30 day money back guarantee and a one year warranty. Even more, you get a great pair of sunglasses that look and feel great.
Conclusion
Cycling sunglasses are a great signature for any serious rider, they also happen to be a safety feature that most people never consider and largely wear for aesthetics. For the sake of safety and longevity, you have no option but to look for a great pair that will be able to get the best for you and keep you in a competitive position.