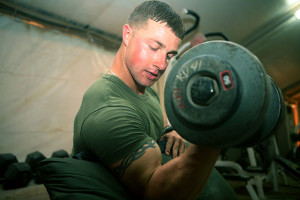 If you want to start working out at home you are going to have to purchase some fitness equipment and probably the first piece you will consider buying are some dumbbells. This is all fine and dandy until you look at the price and notice that they are not going to be as affordable as you thought. You then start to realize that when you get stronger, you will soon need to purchase heavier weights and before you know it, your gym is full of clutter. If you are a beginner, you will generally get a few pairs of lighter weight dumbbells and these will be really easy on your wallet. However, if you plan on gaining strength and training frequently, the cost is sure to rise. I am going go through how you can find and purchase cheap dumbbells so you can save as much money as possible while getting fit.
Where to buy cheap dumbbells
Some of you may be interested in getting an adjustable set to grow with you as you lift. These are going to be a bit over your price range though, and any beginner is going to buy weights one at a time. To get you started on getting just a few sets for your home gym, I am going to go into the best possible ways to get cheaper dumbbells while still finding high quality items.
Online Discounts
My absolute favorite way is to shop online! I do not have to leave the comfort of my own home, and I can find brand name products at an incredible price. You can also finder cheaper options if you look into brands that are not well known or brands that have not become popular yet. I really do prefer Amazon.com to pick up the majority of my fitness equipment? Why? First thing is that I love the 2 day shipping, if you have prime. Once I order, I can get my product faster than purchasing them elsewhere. Second, they have all the top brands in the fitness world so you know they can be trusted. Third, I can actually read reviews of people who have gotten their weights and see what they think about them. This is a great way to spot check for quality to see what you will actually be receiving. Finally, Amazon is known to often run discounts on products when they have heavy inventory making it easy for you to pick up dumbbells at an incredible price! Make sure when you are looking around to grab a pair and not just a single inexpensive dumbbell.
Shopping Around Town
While shopping online is one of my favorite activities, sometimes you just want your equipment NOW. I can understand this obsession. The best place to start your search is in your own little down. Get in your car and head to some stores that are known to sell active wear such as Dicks or sporting stores. This is a good way to go if you do not want to pay shipping so this will add up in cost savings. If you have decided to look for online discounts, shopping around local stores is a great place to start. This will show you what is available and you can try them out to see what weights you like and dislike. Once you have found the dumbbells that are inexpensive and work for you, you can always go online and shop around to find the best price.
Brand Stores
If possible, you may want to go around and visit some brand shops around your area. This will allow you to test the weights and see what you like. Keep in mind that these are probably going to be one of least inexpensive places to find dumbbells, but always a good starting point. If you do not want to go with a brand, you can typically find a cheaper deal if you go with a rebranded, or no name brand from online. Sales sometimes occur at these stores but it is rare. If there is an ad in the paper for a sale, it may be worth your time to check and see if you can get the dumbbells at a discount.
Purchase In Sets
If you only want a single pair of dumbbells, that is certainly fine but if you are looking to purchase some weights for long term lifting, then I would recommend that you buy your dumbbells in sets. If you buy them individually, the cost is going to add up and eventually be a lot more than if you were to buy the same weights in a set. Since they are selling more dumbbells at once, you will typically get a nice discount and make the price a lot cheaper. I always like to recommend people who are serious about lifting to purchase a set and if they want a large set, it may be cost effective to go with an adjustable pair instead.
Used Dumbbells
Dumbbells are sturdy and made to last a long time! Knowing this, you can easily purchase a pair that has been used by someone else and has sat in a closet for a few years at a deeply discounted price. I like to check online outlets such as backpage or craigslist. Sometimes I take a look at ebay but lately it seems that they are going for retail or above there. Always keep in mind that if you purchase online, most of the time you will have to pay shipping. This is a good reason to try and find people to meet up and trade with in person. You could even look on social networks and see if any of your friends have any weights they are trying to get rid of. There are some retail stores which specialize in selling used equipment. These stores will only take fitness equipment that is not dinged up and still has years of use left in them so you can always look and see if any kinds of stores like this are in your local area.
Dumbbells Under 100 Dollars
From my research, here are a few affordable pairs of dumbbells to get you started in your weight training.
This set by SPRI comes with 2 dumbbells and is not that expensive at all. My gym has a few of these and they are great. The coating is some sort of rubber so they do not slip in your hands when you are lifting. You can also drop them on the floor without worrying about damage caused and they look great. They come in a few different colors depending on what weight you choose and sometimes people are selling them used!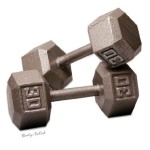 Another cheaper option and one you will see around a lot. These hex dumbbells are sold in pairs and are only priced at a single dollar per pound of weight. They are made out of iron and last forever because they are extremely sturdy and durable. They have the weight clearly stamped into the actual dumbbell so you will always know what you are lifting. The hex shape is also perfect for doing exercises such as push ups off of them and will not roll around your floor getting in the way!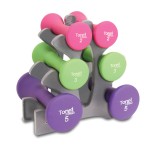 If you are brand new to fitness, this may be a set that would work well for you. It features a few sets of dumbbells. They are 2, 3 and 5 pounds with a nice little holding rack. This can give you some weights to try them out in your workout routine and are very inexpensive. They are colored with the 2 pounds being pink, the 3 being green, and the five pound weights being purple. They look great and can give you an introduction to using weights while exercising.
Hopefully this is enough information to get you lifting. If you are looking for something a little bit more advanced, check out the adjustable dumbbell guide I have put together on Fit Clarity. Good luck with your journey!