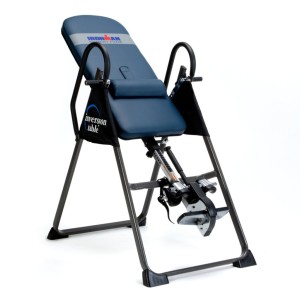 Inversion therapy is the new hype to combating back problems. The idea behind it is pretty simple and straight forward yet one that yield massive and lasting results. There are many equipment and techniques used to achieve positive results in this therapy, but one that has caught on like wildfire is the use of inversion tables.
Now there are numerous inversion table types and brands available in the market today, but not all are perfect for you. There are some considerations that you will need to make to get value for your money. Information on the considerations to make can be found here.  In this piece, we shall look at one of the best and top grossing inversion table there is – the Ironman Gravity 4000.
Needless to say, it is one of the latest products from Ironman. Its selling point is effectiveness and comfort which it delivers all so gracefully and effortlessly. The comfort features it comes packing ae designed to better your experience on the table and to relax your muscle giving you a massaged feeling. It truly is a major upgrade from its predecessors the Gravity 2000 and Gravity 1000.
But the question is does it really live up to the hype it has created? Is it just a marketing stunt or can it actually deliver on the claims that its manufacturers have made? Well, let's find out.
Design
There are two aspects of design that we all consider when buying any product. Is it pleasing to look at, and how are its parts put together to work flawlessly in the delivery of its service? Sure you should not judge a book by its cover. But truth be told, it's very hard not to. If anything, it is the first impression that will determine whether or not you are interested in the piece or not.
The Ironman Gravity 4000 has been designed to be comfortable and effective in its back and neck pain relief use. Since you will have to turn the table with your fingers and hands, the designers of this inversion table saw it fit to throw in vinyl side covers to protect your hands.
As for its first impression, it looks and is sturdy enough to provide the needed support. For an inversion table, it is quite intriguing.
Assembly
It was doing so great until the mention of assembly right? Don't let this scare you away. While it may require assembly, it is nothing you cannot handle. Even if you are not one of those persons who are great with their hands, it is a pretty straight forward and easy process. The instructions are provided and guide you every step of the way. Ideally, it should not take you more than 30 minutes.
Quality
The Gravity 4000 has been designed and engineered for endurance. It can take a beating and will serve you for many years. The table is wide and built with a steel frame with anti-scratch finishing to add some life to it.
The backrest is covered with memory foam vinyl for increased comfort for your back. The memory foam, though firm, will conform to your backs shape. So whether you want to use it to ease your back pain or just rest, you comfort needs will be met to the fullest.
Ankle support
Seeing that it is meant to hold you in a position that your head will be lower than your heart, it comes with ankle support. Now one might argue that all inversion tables come with ankle support, and hence this is not a feature that sets the ironman Gravity 4000 apart from the crowd.
But look at it this way, the ankle support features a new locking system technology – the palm activated adjustable ratchet. This makes it easy for you to secure your ankles even when you are alone in the house. This technology is better and far more comfortable than the roller system that many other inversion tables come with.
Capacity
The table frame will accommodate persons of all height and weight (up to a certain maximum of course). The 6 feet 6 inches height limit sees to it that even tall persons can use it comfortably while its 350-pound weight limit enables it to serve a host of persons.
Inverting
There have been complains from inversion table users that many of the products available in the market are not easy to incline to desired positions let alone get up after a session. But while this might be the case with many of the tables in the market, the Gravity 4000 is an exception.
To get into the desired inverted position all you have to do is rest your body on the backrest, lock your ankles in the padded cushions and stretch your arms above your head. You will slowly and safely get into the desired inverted incline.
And as a matter of fact, the Ironman 4000 features 3 inversion angles to start with. After the session, to get back up all you need to do is pull on the safety handles, and you will rotate back into the normal position without breaking a sweat. What more could one ask for?
Storage
When setting up, the inversion table takes up quite some space. It may be okay when you are using it, but when you are not; it will just get in your way. But the best part about the Gravity 4000 is that it can be folded and stored away safely. When it is folded, it measures 26 x 65 x 49 inches.
When you are moving it, however, you should be keen not to damage it. Take into account its 75 pounds weight when you are moving it to and from its storage.
Safety
If there is one thing that the designers and engineers of this product put into consideration is its safety. Being in an inverted position can be quite risky especially when working with equipment that can topple over any moment having you land head first on the floor.
The Gravity 4000 features non-skid floor stabilizers made from rubber, U-shaped headrails (extra-long) for added support and stability.
Pros
Its assembly is pretty easy and straight forward.
It can provide an 180 degrees vertical inversion.
It is quick to fold and store
Features adjustable height
Cons
Weighing 75 pounds, it is quite a heavy piece of equipment
Even when folded up, it still is bulky.
Conclusion
For such a product as this, a high-end product for that matter – one that comes with a host of features to your benefit, the price tag it comes with is quite fair.