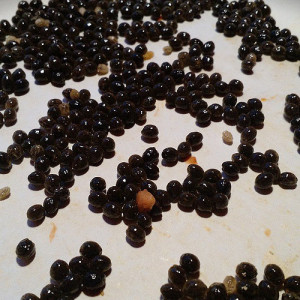 Your digestive system may be the one area which stands out when you have health issues.  However, minor issues can become very uncomfortable and soon you won't feel like yourself.  When you consume papaya seeds, they may just be able to offer you some important health benefits, none more so than for your digestive system.  Papaya seed health treatments may be the answer to your problems.
If you would like to know a little more about papaya seeds such as the amount of seeds which should be taken and what to do with them, read on.  You will also be able to learn more about preparing the seeds.
How Should You Store Papaya Seeds And What Are The Best Sources To Buy Them From?
When you want to add more seeds to a diet, you need to purchase some fresh papayas.  The papaya must be opened so that the seeds can be removed; usually you will do this by scraping them out.  When you do remove them place them into a sealable container and place them in a cool place such as the freezer or the refrigerator.  If you plan to use the regularly then the refrigerator works best for freshness.  You don't necessarily need to buy a lot of papayas or large ones, small papayas offer up lots of seeds.
There have been some reports to suggest papaya fruit have been genetically modified but this may not be exactly true.  Papayas are good for you and you shouldn't be put off by GMO issues.  If you want, you could go for the Mexican or South American varieties as they are larger and offer more seeds.
Between fifty and eighty percent of all Hawaiian papayas are thought to be affected by GMO which is something to remember.  There is only really a small portion despite what some sources report when it comes to genetically modified fruits.
Keep the papaya seeds in the freezer when they aren't being used regularly and preferably in a sealed container.  This will ensure they are fresh even after several months but before they are used, they must be defrosted.  You could leave them out to defrost or place them in warm water; or simply place in the fridge.
What Is The Flavor Of Papaya Seed And How Should You Eat Them?
Before consuming any seeds, check out the potential side effects on papaya seed enzymes.  This may be beneficial to you especially if you have an ulcer of the stomach use medications for blood thinning or are currently pregnant.
For men, they need to also be wary of consuming papaya seeds especially if they wish to try for a baby with a partner.  The seeds temporarily reduce the fertility of a man whilst they are within the system so it is worth remembering.
When you first start using papaya seeds, it is important to take it slow.  These are considered to be powerful, even in small doses and as such, you need to take very small amounts.  If you haven't used papaya seeds before or haven't done so in a long time, you may want to start off with a couple.  This would avoid potential side effects.
If your body can handle the effects of papaya seeds then you can increase the amount.  You can go to one quarter of a teaspoon and then go to half a teaspoon when you feel ready.  Usually you do this in stages so after the first week, you can increase and eventually you can consume a teaspoon of seeds.  However, you should consume the seeds with a heavy protein meal in order to see most benefits of their proteolytic enzymes for your digestion.
There are some who prefer to take a small teaspoon of the seeds and eat whenever they are going to have a protein meal.  If you do this then you may find it comes with a lovely but strong mustard-come-wasabi-come peppery aftertaste.  However, it isn't too bad if you like that.
Some smaller papayas have mild seed whilst the bigger ones are sharp, sharper than the smaller ones that is.  Until you get used to the taste, you may benefit from using the smaller papaya seeds for the time being.
Crushed or chewed is the best method to consume these in order to work.  During digestion the shells are often unable to breakdown because of how tough they are which is why they need to be crushed or chewed.  You can swallow them whole but the effects aren't going to be as great as when you chew them.
Using Alternative Seeds
Organic papaya seed powder is now available so if you want an alternative to chewing the seeds, this may be it.  Also, some areas don't get fresh seeds which means sometimes, alternatives are necessary.  If you want to use the powder you need to reduce the dose to half of the amount of fresh seeds you would use.
Seed powder is actually quite effective, more so than what oils or extracts are.  Whole seeds can be very beneficial but some of them don't have all the necessary nutrients or as much as there is with seed powder.
Never consume planting seeds.  Any papaya seed which is classed as a planting seed should never be eaten because they could have been chemically treated which means toxic chemicals are making their way into your body.  Only ever use papaya seeds which are used for food.
Adding Raw Honey with Papaya Seeds
Some may find the taste of papaya seeds isn't for them and that is perfectly OK.  If this is the case then raw honey can be used.  This will make the end flavor sweet but nice and it's good to combine the two.
In many occasions, raw honey comes highly recommended when fighting parasites with seeds such as papaya. Manuka honey is really quite good because it comes with anti-bacterial properties which mean fighting back the bad bacteria.
However, some supermarket honeys need to be avoided.  The reason why is simply because some stores treat the honey with added extras like high fructose corn syrup which isn't what you want.  Only raw honey should be used.
Sometimes, if you want to get the best honey around, raw is best and Manuka honey is great.  Using this with papaya seeds can be excellent.  This may also be able to treat Candida.
Raw honey is great for digestive health simply because it comes with anti-fungal and anti-bacterial properties.  This is the type you want when it comes to using it alongside papaya seeds.  However, it is the heated honeys you must avoid.  It isn't too healthy and loaded with unwanted extras.  If you can't find raw honey then consume the seeds on their own.
Crushing Seeds to Create a Pepper
There are many who don't like the taste of papaya seeds and it is understandable because sometimes, what's good for you is often someone you don't like.  However, you can still get your fill of papaya seeds.  Instead of consuming them through chewing them, why not crush them instead?  You can crush them and add them to meals you're preparing.
Using papaya seed as a pepper and using it with healthy grass fed beef to create a steak with is perfect.  You should only crush a teaspoon of the papaya seeds because that is all you'll need.  When you have done so, take the seeds and rub them across the beef and you'll get that beautiful peppery taste.  If you want you could use this papaya seed powder as an alternative – you would only need one half of a teaspoon.
The papaya seed pepper should be left to marinate into the beef steak for at least one hour.  When the hour is up you can pan fry it and you'll find the meat becomes tenderized and the seeds really give this wonderful peppery taste.  It will be really good and grass feed beef is something you want to try to – grass feed cows makes the best beef.
Alternatively, you can use your pepper grinder to grind the seeds.  If you don't own a grinder you can place them into your tea towel and crush the seeds.  However, if you do plan to use the tea towel, note you'll need to wash it.  Also, paper towels aren't very helpful when crushing the seeds.
When you have crushed the seeds, wash the seeds out and allow them to dry.  Place them in direct contact with sunlight and leave there for around three to four days.  This will give them plenty of time to get the seed pepper just right.
If you have a dehydrator then you could always use that.  If not, then don't worry about it, the windowsill will do just fine.  The dehydrator is really a suggestion if you live in an area which doesn't see a lot of warm weather.
The papaya seeds need a few days to dry out completely so don't rush to use them.  When they are finally dry, they can resemble peppercorns.  Now, the seeds or rather pepper, can now be used however you like to use it.  You can add a few to your main protein heavy meal in the evening or as you are preparing a dish.  Adding just a few into your diet can really add more enzymes and improve your health.
Papaya seed can also be used as a parasite treatment.  They can be very high in nutritional values and as such will offer you a great way combating parasites.