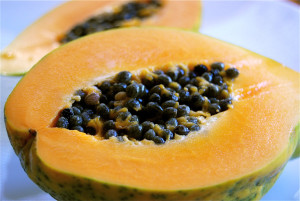 Papaya is a beautiful and very healthy fruit to consume.  It is a wonderful tropical fruit and one which is actually a high nutritious food source also.  The taste may be unique but it is certainly very impressive and for the health benefits alone, papaya is well worth it.
Another common name for papaya is pawpaw; and pawpaw is widely known and loved across the globe.  It does have a fantastic source of minerals, enzymes which help the digestive system, offers lots of vitamins and comes with many antioxidants and phytonutrients.  These alone make papaya very special.
However, why should you eat papaya?  Well, it can improve your skin, help your eyes and help the digestion, not to mention the heart.  There are even suggestions that papaya can reduce the risks of cancers forming.
Papaya – Protection for Your Skin
Vitamin C and E are both antioxidants and they are found within ripe papaya and when consumed, you get these nutrients into your skin.  You also get the benefits of lycopene and beta-carotene, both carotenoids.  However, all of these combined offer up some of the best tools to combat free radicals that damage the skin such as increase aging and produce fine lines and wrinkles.
The skin and fleshy parts of the papaya also come with papain, which is an enzyme; and it is these enzymes which can promote renewal of new skin cells whilst breaking down old dead skin cells.  When the papaya skin is actually directly applied to the facial area as a topical treatment, it can actually help promote healthier skin.  In fact, Papaya facial treatments today have become extremely popular because they are said to help the elasticity of the skin, improve its appearance and even help smooth the texture.  There is even the possibility mild scarring and burns can be healed as well.
Why Your Eyes Can Benefit From Papaya
Carotenoids are technically antioxidants but they also can play an important role for the eyes.  Carotenoids can convert to vitamin A.  When they are turned into vitamin A, it means they give a health boost for vision and for healthy eyes.
Zeaxanthin and Lutein are two very different compounds found within papaya but these really are crucial for eye health.  Phytonutrients sometimes known as Xanthophylls, work in the macular area within the eye.  When they get to the eye, they are concentrated and it means they offer up help to protect the eyes from damage done by blue light and UV lights.  As most will know, these two factors can damage an eye very seriously.
There has been a lot of studies which actually suggests when Lutein and Zeaxanthin are both consumed; they may be able to reduce the risks from ARMD.  Age related macular degeneration is a serious condition; in some cases, it causes blindness and fighting against this is crucial which is why papaya is being consumed more so today than ever before.  Lutein can reduce the risk of glaucoma and cataracts and many other diseases of the eye.  Zeaxanthin and Lutein can be easily found from food sources such as broccoli, pumpkins, egg yolks and spinach.
There are also some suggestions that color perception and acuity for vision can both be improved.  When the body consumes supplements which contain good levels of Zeaxanthin and Lutein, it can be very good and give the eyes a big boost.  The eyes are one of the most important parts of the body and keeping them in the best shape possible is important.  For those who stare at computer screens all day really need to consider using more Lutein supplements.
Eye strain is possibly reduced when using these high strength Zeaxanthin capsules.  Now, these are xanthophylls and when you consume foods rich in these you are going to start seeing a big difference.  If you do choose supplements you need to ensure you use them with a meal that has good healthy fats; this will increase absorption levels quickly.
Preventing Heart Disease with Papaya
One of the biggest health benefits of using papaya is that it can reduce oxidation of cholesterol within the arteries.  This means that the risk of heart disease lowers slightly as if cholesterol doesn't become extremely high; the potential of arteries being clogged reduces.  It can be all down to the amount of antioxidants within the fruit; there is plenty of vitamin E and C as well as lycopene and beta-carotene.
Arteries can become blocked with a plaque like substance from cholesterol.  However, when oxidation occurs with cholesterol, it really can be dangerous.  When the arteries become clogged up because of plaque, it induces the risk of a heart attack occurring.  However, the possibility to reduce these issues can be down to the intake of papaya fruit.  The antioxidants within it can help reduce this process.
Folate also comes with papaya fruit and this will control the homocysteine levels in your bloodstream.  Blood vessels can in fact become damaged when homocysteine or high levels of these make their way into the bloodstream.  This can in fact be a contributing factor to some forms of heart disease.
Papaya does surprisingly come with a good deal of fiber which is very important.  LDL cholesterol, which is technically the bad kind of cholesterol, can in fact be improved.  These levels can be reduced or at least slightly lowered.  The way in which this is possible is down to how the absorption is stopped during digestion meaning there is less cholesterol making its way to the heart.  In a sense papaya is a superfood because it can do its part to protect against strokes and many forms of heart disease.
Papaya Can Help Boost Digestion
Papaya has many enzymes as you know, however it is these which offer the most help to the digestion.  When the enzymes make their way into the body, they work to ensure proteins get broken down and become amino acids instead.  When you have proteins which aren't digested then they can cause a lot of issues within the body for your health especially with the colon.  You may end up with severe gastrointestinal problems.
One of papaya's main enzymes is papain and this is something which is greatly needed.  When papain is consumed, it gets to work to tenderize meats and essentially breaks the proteins down.  As strange as it sounds, it's true and very much needed for most people today.  It may be good to use fresh papaya with protein rich meals; but if you don't have any fresh papaya, you could use green papaya enzyme capsules instead which are very good.
Prevention of Cancers
There is no guarantee or certainty that cancers will be prevented entirely with the use of papaya however, they may be able to reduce the risk.  The risk of some cancers forming can be reduced slightly with some papaya intake.  If you are worried about your health, you do need to consult a doctor and especially when you're ill.  Nutrients and foods rich in nutrition really help the natural defenses and papaya may offer you some assistance.
The antioxidants are really a crucial part of papaya and it is these which help reduce the risk of cancer developing slightly.  Beta-carotene and cryptoxanthin along with lycopene are so important for a healthy body and disease prevention.
Cancer cells are sometimes protected by a layer of fibrin protein which makes them harder to destroy.  The dangerous cancerous cells become susceptible, more so when the immunity it poor and vulnerable.  However, the proteolytic enzymes from papaya can help destroy the protective layer around the cells and may even help stop cancer spreading and growing further.
A compound, isothiocyanates is something which papaya offers too.  This may be able to also prevent some cancer.  It potentially removes carcinogens from the body and can boost tumor suppressing proteins within the body to prevent cancers from forming.  Broccoli is some of the best cruciferous vegetables available today which have a huge amount of isothiocyanates.
There have been some studies carried out that focused on papaya and its uses on cancer cells.  The studies have focused on the leaves from the papayas and it makes interesting reading.  As most will know, there is no cure for cancer but hopefully one day there will be.
Will Papaya Be Something That Interests You?
The five health benefits of using papaya are just a few that may inspire you to find out more.  Hopefully you will give papaya a go; even if you don't like the taste, at least you are willing to try something new for your health.
Remember, papaya can be eaten at any time of the day or night.  Many prefer to have it for breakfast which is great while others prefer to consume a small amount after dinner.  The choice is yours; hopefully you'll enjoy it no matter the time.