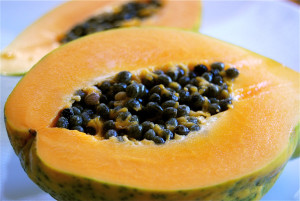 Papaya fruit does have many good and positive health benefits but unfortunately there are also some drawbacks.  If you use papaya you need to know about the papaya enzyme risks and side effects.  This can be very important especially when you use unripe, papain enzyme digestive supplements or papaya seeds or papaya leaf.
The following are just a few possible risks and side effects that come from using papaya enzymes.  You can also find out how to limit the consumption of papaya.
Pregnant Women Must Avoid Papaya
Traditionally throughout Asia, green papaya latex is used.  This is often used to cause a miscarriage on a woman who is with child.  The green papaya latex comes with a high enzyme count called papain.
Papaya enzyme should be avoided at all costs for any woman who is pregnant.  There are many food forms that carry the enzyme which also need to be avoided.  A papaya seed smoothie shouldn't be used and neither should any seeds or papaya salads.  Supplements are also out.
For fresh ripe fruit that isn't green, it may be slightly less risky.  There aren't high levels of papain found and are generally healthy.  However, before consuming, contact a doctor just to be safe.  This way you know what to eat and what to avoid.  Of course, ripe fruit usually comes with lots of vitamins and antioxidants as well as other health benefits.
Disruption to Monthly Menstrual Cycles
If papaya enzymes are taken in higher dosages over a considerable period of time, it may cause internal issues.  For instance it may cause a menstrual cycle for a woman to be disrupted.  It may also stop you from becoming pregnant if you are trying for a child.
A research paper on papaya said papaya and its enzymes may have a bearing on menstrual cycles because of a suppression of progesterone.  This hormone helps to ensure the pregnancy remains without harming the child.  Studies also shown the development of the fetus may be disrupted because of a membrane breakdown.
Again though, ripe fruit shouldn't have large enzyme counts.  However, again, seeking the advice of a doctor is crucial.
No to Papaya during Breast Feeding
There is no actual reason to say why it isn't a good idea to use papaya when breast feeding but it is generally advised against.  Any type of papaya, ripe or unripe should be avoided.
However, in some parts of Asia, women are encouraged to consume papaya because it's considered to be a galactagogue.  This helps the flow of milk from the breast but every country and continent is different.  You may be best consulting a doctor first so that you know what your options are.
There is also a belief that with an increase of papaya enzymes, it could potentially cause the size of the breast to increase.  This is something which many Asian women believe and that is why many eat green papaya salads.
Possible Contraception for a Man
Male fertility can also be affected.  For men with high levels of papaya enzymes in their diet, they may find it acts as a birth control.  Yes every man is different but there is a possibility.  That is why papaya seeds are quite interesting to researchers across the world.
Using papaya seeds as a male contraceptive including supporting research here may be something you want to check out.  It is surprising and very unusual.  However, it doesn't mean a man can't still have a child, it just potentially means the chances reduce slightly.
Used As Natural Treatments
In some cultures however, papaya leaf is considered to be a natural treatment for dengue fever and malaria.  Now, this isn't proven as there hasn't been too much research about dengue fever and papaya leaf.  However, currently, there isn't a treatment available for dengue fever which is why many consider papaya to be a natural treatment.  Some even use this as a cancer treatment.
Some will say they have used leaf tea or juice and have never had any issue but sometimes, that isn't the case.  The risks, warnings and side effects here are there to warn you and be wary of the potency of the leaves especially.  For instance, papaya in all forms should be avoided for pregnant women and those with ulcers.  It is the same for those being treated for medical issues including when using blood thinning medicines.
Mixed Response to Ulcers
When it comes to stomach ulcers there has been quite a bit of confusion.  Some say papaya enzymes should be avoided when being treated for stomach ulcers.  Researchers and health sources also say papaya should be avoided, especially when it is green.
However, there are some suggestions which state papaya can be very helpful.  It can be very confusing of course.  Papaya has a lot of positive nutrients and can increase the stomachs protective secretions of mucus; and since it can break protein down faster, it can be good.
The information is very much confusing because you have sources saying its fine to eat papaya, while others saying its wrong.  No matter what you think or believe, see a doctor and ask what is best to treat your ulcer.  If he or she doesn't believe you should use papaya, consider their words.
The Dangers of Using Papain with Blood Thinning Medications
The effects of some blood thinning medications including Warfarin may increase significantly.  Due to this fact, it isn't recommended to use papain enzyme or any form of papaya when using any medication.  Also, papain should not be used for a week or two before major surgeries also.
Those with certain disorders like hemophilia and thrombosis (blood clotting disorders) should avoid any papaya.  It could potentially be dangerous for your health and well-being.  If you aren't sure or want to use any papaya, please contact a doctor first before using any papaya enzymes.
Avoid If You Have Latex Allergies
If you have any sort of latex allergies, it is crucial to avoid papaya.  Fruits which are green and come with a high enzyme count should avoid consuming them at all costs.  While allergies to papaya are extremely rare there are many who find they have a reaction to it nonetheless.  Some of these people can also find they have a bad reaction to several fruits such as kiwi, pineapple, melons, bananas and even avocados.
Swelling to the throat, facial area, tongue and lips are common symptoms of allergies.  There is also the possibility of dizziness, pain in the abdominal area, people can find it hard to swallow and rashes appear.  There are many side effects and while rare, they can occur when they least suspect it.  Whenever you spot any symptoms or believe you've taken a reaction to papaya, contact a doctor immediately.
Green papaya digestive enzymes often can be beneficial.  When unripe fruit is consumed, most don't have any difficulty but that isn't to say you won't.  Fresh fruit can be good but you still have to be aware of the risks, side effects and dangers.
Papaya does have some simple health benefits such as being a digestive aid but it has many other health purposes.  It may be wise to look at both sides of the argument before dismissing papaya altogether.
You may want to also know about the benefits of papaya seeds too if you're thinking about trying them.  Papaya seeds can be useful for many reasons, as long as they agree with you.