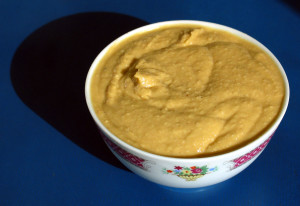 One of the most common intestinal issues today is human intestinal worms.  Now, as awful as this sound, it isn't as difficult to treat these as you may think.  However, do you know the signs or symptoms of tapeworm and other parasite infections?  No?  Read on because you might benefit in finding out a little more about these and you can also find out how to treat intestinal worms with pumpkin seeds.
Today, we are going to talk about a famed traditional German remedy to treat parasites using raw pumpkin seeds.  Firstly, let's take a look at what intestinal parasites are and the type of symptoms associated with them.
How Do Intestinal Parasites Make Their Way Into The Body?
Parasites are clever because there are a variety of simple yet effective ways they can find their way into the human intestine.  The first method is to consume contaminated food or water.  It is more likely that parasites can get into the body when certain meats such as pork and even fish aren't cooked correctly.  However, if you were to come into contact with contaminated surfaces or even an animal which is infected, there is the possibility of being infected.  Mosquito bites are common methods for parasites to invade the body and even through intimate contact.
Usually, healthy people can deal with parasites before they become a major issue as long as they are in good shape and their immune systems are strong.  However, when someone has poor immunity or their digestive system isn't working as it should then it can be extremely tougher.  Intestinal worms can then become a very concerning issue.  Strangely though, when the body is infected by a parasite the symptoms are often a little unusual.
The biggest problem with intestinal worms and parasites is that they are sometimes hard to pinpoint.  Diagnosing them is difficult because some symptom can be associated with other health problems and it leads doctors to diagnosis the problem incorrectly.  This happens but that is why the human intestinal parasite is a dangerous thing no matter who you are.
Of course, you may have one or two symptoms which you will see shortly but that doesn't automatically mean you're infected with worms.  However, if you have noticed something differently recently and have more than a few of the symptoms then maybe it is best to contact a doctor or health care professional.
Potential Symptoms of Intestinal Worms and Parasite Infections
Excessive Gas and Bloating: When there is an infection in the gastrointestinal tract, it will start acting a little stranger than what it would normally do.  For instance, you may find yourself feeling very bloated or even passing more gas.  The gastrointestinal tract is the one area which controls this and when you are bloated it means parasites such as tapeworm has caused a blockage.  This can of course lead to excess gas or bloating.
Constant Diarrhea: One of the worst symptoms to come from human intestinal parasites has to be diarrhea.  There are some types of parasites, such as protozoan, will create a substance which causes the body to need to go to the bathroom more often.  Frequent diarrhea is awful but it is a symptom of parasites and when you see this happening, it is something to worry about.
Severe Constipation: This might sound a little strange after hearing some parasites can cause diarrhea however, there are so many different types of parasites and they all cause different issues.  Some parasites can cause the worm to begin blocking up passages.  This means your body can't digest the food and it means waste trying to get out cannot.  It will cause constipation and this can be quite severe and sometimes very painful also.
IBS: Irritable Bowel Syndrome is something which affects a great many people but it can also be a symptom of parasites.  The worms can basically stick to the walls of the intestines and refuse to budge.  This will eventually cause inflammation and the stomach can feel irritated also which can cause spasms within the stomach area.  It can also cause less nutrition to be absorbed and even some contractions occurring.  They are all common symptoms associated with irritable bowel syndrome.
Chronic Fatigue: It isn't uncommon to feel a bit down or tired but when added pressures and stressed from intestinal worms and a lack of nutrients being absorbed from food then fatigue occurs.  However, it isn't just a day or two feeling as though you have no energy, it is constant and this is something you have to be very wary of.
Doctors can often find it difficult to get a clear diagnosis of parasite infections.  The reason why is very simple – there are lots of symptoms and some can be related to other illnesses – but unfortunately too many infections are left.  Some aren't diagnosed for a considerable period of time, days, possibly weeks.
Allergic Reactions: Inflammation and irritation from certain foods can cause the gastrointestinal tract to go a little crazy.  This means digestion is a lot harder and causes allergies to flare up.  It can happen to anyone even if they have never had an allergy before.
Improving your intestinal environment is crucial when it comes to leaky gut syndrome which is the problem behind an allergy.  Sometimes, taking over the counter drugs can mask the symptoms leading to parasite infections getting worse.
Immunity Low: During the digestion phase, thing such as minerals, nutrients and vitamins can easily be stolen by the parasites making the body weaker.  When you have low immunity or a poor immune system, it is down to the fact there is a lack of nutrition.  You may be eating nutritional foods but the intestinal parasites can stop them from getting to your immune system.
Exhausted immune system can occur too since parasite can cause a response.  Usually this happens over the course of a lengthy period leading to exhaustion.  However, when this happens, your body is particularly vulnerable to a lot of different attacks.  Candida can become an issue and you're at risk from a host of viruses.
The truth is that parasites, no matter what form they take, are very dangerous at the best of times.  Worst of all, thousands of people could potentially be infected without really knowing it.  It is all down to the different symptoms and can be associated with other problems.
For anyone with digestive problems, low immunity, lacking energy, finding new allergies and being tired constantly, you should contact a doctor.  They may be the best people to talk to when it comes to concerns about your health and well-being.
The different kinds of parasites, their various symptoms and their effect on your body have been looked in detail.  There is a Paratrax and Oxy-Powder combo which helps to combat intestinal parasites.  They may be able to make feel better as it can cleanse your body.
Oxy-Powder can in fact be used regularly, on a monthly basis if you want to cleanse the intestinal tract.  You may not have any issues with parasites but that doesn't mean you still can't use this.  It can still be useful if you wish to use it.
Oxy-Powder uses oxygenated magnesium and other natural ingredients but these can be best.  Often, it is the natural treatments which offer the best depending on the ailment.  When it comes to dealing with parasites, natural treatments may be best.
In Germany, pumpkin seeds are considered to be the most traditional method and remedy to deal with parasites.  The following will show you how to use pumpkin seeds to treat intestinal worms.
Getting Rid Of Worms with Pumpkin Seeds
Pumpkin seeds are considered to be the tool which helps to get rid of the parasites, often referred to as an anthelmintic.  The recipe below is a short but simple way in which you can make up the pumpkin seed remedy.
However, it is important to remember that while you may use the pumpkin seed remedy to deal with parasites and intestinal worms, it won't actually stop them.  The remedy won't kill the parasites but rather paralyze them with the cucurbitins compound.  The compound takes effect and detaches the worms from the intestinal walls.  They are removed from the body via bowel movements.
Natural laxatives such as triphala may be needed to help remove the remaining worms.  Most can be used with the pumpkin seed remedy however.  If you use the laxative, it can ensure the parasites are fully removed.
The Treatment for Intestinal Parasites with Pumpkin Seed
Firstly, you will need quality raw pumpkin seeds and a good blender.  Place one cup of coconut water or bio-live yogurt into a blender along with one hundred and thirty grams (or one cup) of the pumpkin seeds and blend.
The desired consistency you should get from blending is something like a paste.  Now, you may need to add more coconut water or yogurt to the pumpkin seeds until the right consistency is achieved.  When you have, you need to carefully remove the paste from the blender which can be a bit difficult so you might benefit from using a rubber spatula for this part and place into a bowl.
You now eat the pumpkin seed paste as you would do normally.  It may be best to consume this first thing in the morning with an empty tummy and the raw pumpkin seed paste is very much like porridge.  It tastes very appealing and is quite filling as well so you don't need a huge amount of this either.  Honey can be added for extra taste if you so wish and honey is actually have antifungal and antibacterial properties which also help.  Do not add any regular sugar; if you wish, use blood sugar stable stevia instead.
During the course of the upcoming hour, you should consume a few glasses of water.  Water is crucial for this remedy so remember to drink plenty of it.
You can in fact create an Ayurvedic triphala powder laxative also.  This doesn't take too long and if you let it sit for a while it can be much more effective.  Find out how to make triphala and once you have, consume it only two hours or so when the pumpkin seed paste has been consumed.  Always use this before consuming solid foods.
If you use a high dose of triphala then usually you'll be heading off to the bathroom in no time.  Hopefully this should help deal with intestinal parasites effectively.
Different Natural Treatments and Remedies for Intestinal Parasites
Some can find their natural treatments work on the first try while others find it take a few good tries before they are successful.  Intestinal parasites are often difficult to get rid of and tapeworm is especially tough so you may need to try out the same remedy a few times before working.
Using the pumpkin seed remedy can be good and if you use in the morning for three days, no more than five at most, then you should see the best results.  As most will know, laxatives should not be used more than one week so if you can, avoid prolong use.  If you still are worried about this issue, use it for a few days then stop for a week before trying it ago.
Parasites can cause a lot of problems and there aren't just one or two varieties but a great deal of them.  There have been a lot of studies to show when dealing with tapeworm, the pumpkin seed remedy is successful for many.  This may be one of the best treatments of parasites.
Other treatments such as black walnut, wormwood and clove are also available to try; you might even benefit from papaya seeds and how to make a worm killing smoothie with them.  We have lots of information concerning these as well if you would like to know more.
Pumpkin seeds may help deal with parasites.  Contact us about the pumpkin seed recipe or if you want to ask a question or leave feedback or a comment, let us know.  We have to state that no specific medical advice can be given since every individual is different.  Contact a doctor if you are worried about intestinal worms or go to a specialist.
Some people in fact like to look at an alternative approach with Chinese medicine and herbal medicines.  Chinese medicine has been around for a number of years and has been treating parasites for quite a while.  You may want to look at Chinese medicine as an alternative option.  Always however, ensure to talk things over with a doctor and if you use an outside specialist ensure they have the necessary experience.
Hopefully the information here will be able to provide you with a few pieces of data you'll need and want.  By now you should have a better understanding of pumpkin seed and its uses fighting against parasites as well as how to treat them.