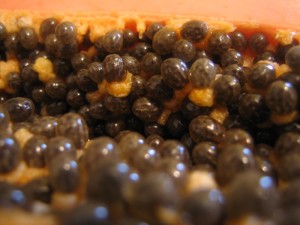 Parasites can affect the body in so many ways.  Unfortunately, intestinal parasites are a very common issues and one which is fast becoming a worldwide problem.  Since intestinal parasites come with a strange and varied list of symptoms, it often causes them to be misdiagnosed.
Symptoms can range from constant diarrhea, bloating, IBS, allergic reactions, excessive gas, poor immunity and fatigue – these are only a few to mention – but they all are symptoms to be aware of.  Some people find they lack energy even when they have a generally good diet.  It can be down to a parasite infection.
Papaya fruit however may offer most the chance to fight against parasite infections.  It comes down to the seeds as these come with anti-amoebic and anthelmintic properties.  Basically these two factors will help to kill off the worms that lie within the digestive tract.  Papaya seeds have in fact been tested and they are quite effective to combat parasites.
Only a few years ago, a study was undertaken that included sixty children from Nigeria – all of whom were said to have intestinal parasites – but the results were the infection within a matter of a week were gone.  At least seventy five percent of the intestinal parasites were gone within a matter of days, and the children were all treated with papaya seeds.  They were given papaya seed extract, around twenty milliliters and those behind the study said human intestinal parasites were fought against effectively.
How Can Papaya Seeds Be Used To Treat Parasites?
Papaya seeds can be used for a variety of things including treating human intestinal parasites and using papaya seeds for digestive health.  However, there are a few differences between using them for good digestive health and the treatment of parasite infections.  Firstly, the amount used to treat parasite is greater than for general health; secondly, papaya seeds are consumed usually with an empty stomach and lastly they are used in conjunction with a natural laxative.
There are a few forms to use papaya seeds though; taking a tablespoon of seeds when you first rise in the morning isn't the popular form.  However, there is a nice smoothie recipe for papaya seeds instead which work very much the same with the exception it is a smoothie.  The recipe below also has lots of anti-parasitic foods to help destroy the parasites.
A little word of warning: the amount of papaya seeds used is a little on the high side and this may not best for first-time users.  Using strong doses when you haven't used papaya seeds before can be quite a challenge.  You should start off with a small dose of papaya seeds the previous week in which you plan to use the papaya seed smoothie.
You must also check to ensure you do not have any unwanted reactions from the seeds.  Papaya enzyme side effects aren't always pleasant.  You have to be absolutely certain you aren't going to have any issues with consuming the seeds.  It's always best to check just in case.
Papaya seeds are technically quite strong, they are in fact a strong digestive enzyme and you may not like the effects they bring to you.  This is why you need to ideally need to start off with small doses and slowly work your way up the ladder so to speak.  Also, when you do this, you aren't going to experience too many side effects.
When it comes to fighting intestinal parasites, papaya seeds can be quite effective.  There have been thousands who have found these really give them the extra help they need.  Hopefully this can work for you but you need to be wary about using them.  This isn't going to clear any intestinal parasite infections away within one or two days; it can take a considerable amount of time to clear.  You may find the seeds don't work right away but usually that is normal.
You have to remember, there are different life cycles for different parasites which means you can find the papaya seed smoothie to be effective on the first attempt or on the tenth.  It really varies but parasites are often difficult to combat even when you are determined to rid them.  If the smoothie doesn't work right away, you may benefit from continual use in order to remove the parasites fully.  However, the papaya seed smoothie really does taste nice which is great news.
The following is the recipe for you to try.
Papaya Seed Smoothie Recipe – Killing Off Those Nasty Parasites for Good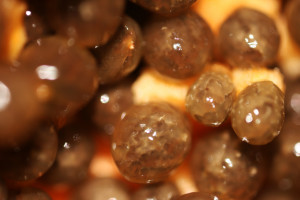 Add Your Seeds.  First of all, when you see the papaya seeds, they probably won't look tempting but don't let that put you off.  Take a large tablespoon of papaya seeds, preferably fresh, and pour them into your blender.
If you don't have a blender or your current one can't crush the seeds, you can always crush them by hand.  Place the seeds into a sealable plastic bag and crush them with a mallet or rolling pin; or use a mortar and pestle if you have one.  The seeds don't necessarily need to be powder by the end of it but the more crushed the better.
Organic Papaya Seed Powder can be a good alternative in case you can't find fresh seeds.  Now, there are some issues with fresh seeds in some areas such as mainland Europe and throughout the United States but if you have any issues, consider the seed powder instead.  It works the same; however, if you use powder then only use one teaspoon.
Extracts from papaya seeds may not be suitable alternatives.  They may not be effective as much as what the organic powder or actual fresh seeds would be.  Also, never use any seeds which are for planting only – they could have been chemically treated and that is exceptionally bad for you.
Adding It to Your Blender.  The next step in this smoothie recipe is to add the papaya fruit into your blender.  If you have a larger papaya then you should chop one fifth of them and add it to the seeds.  For small papayas use only one third.
The best papayas are the ones which are going yellow; going from green to yellow is the ones you want to choose.  These will have a good deal of necessary enzymes suitable for the digestive system and some but not too many sweetness.
South American or Mexican papayas are some which are the best and highly recommended.  The Hawaiian papayas are still good, although a bit smaller and may be modified genetically.  However, the choice is yours at the end of the day.
Papayas are good for you and you should note they aren't all GMO – some resources report the papayas are.  As long as you are getting your papayas from a trusted source, you should be fine.
However, for those who aren't using fresh papayas or organic powder, you don't need to add any papaya fruit.  You could instead look to add one half of a teaspoon of green papaya digestive enzymes or some pineapple.  The pineapple part is what we are going to discuss next.
Throw In Some Pineapple.  Bromelain is one of the best digestive enzymes you can get and it is rich with pineapples.  Bromelain comes with an anti-parasitic effect meaning it will help the intestine greatly.  Pineapples have this unique taste so hopefully you'll love the combo on offer.
Carefully slice the pineapple up into smaller chunks so that the blender can handle it easily.  Remember to keep the core intact however and this should also be added.  The cores are the best part because it comes chock-full of Bromelain and a lot of fiber.
Most blenders should be able to handle the pineapple without issue.  However, if you aren't using a blender, try and chop the pineapple up into the smallest pieces you can to make it easier to chew and swallow.  If you want to make sure your smoothies are blended perfectly, check out this blender here which I absolutely love.
Raw Pumpkin Seeds. Raw pumpkin seeds are a must-have when it comes to this delicious smoothie.  Add around one quarter cup of these into the mix.  These seeds are perfect when it comes to worms in the lower intestine; the raw pumpkin seeds should be most effective.  They can even help make the papaya quite effective as well.
Adding Desiccated coconut. Desiccated coconut may sound like a strange choice but actually it is a great ingredient to add.  This really helps to purge parasites from the intestine and it should be added to your smoothie.  Around two tablespoons should be enough but if you are having trouble finding coconuts which are fresh, you can always use coconut water instead.  After you have tried the smoothie, you can eat the rest of the coconut parts if you so wish.
Adding Lauric Acid. Organic virgin coconut oil is especially good to add to your smoothie.  This comes with a lot of lauric acid and when it hits the digestive tract, it will convert itself into monolaurin, a compound which deals with certain parasites.  Things such as ringworm, giardia and protozoa parasites can be dealt with effectively.
Coconut oil is something which you should consider using regularly also.  You could in fact replace some vegetable oils which this so that you get more healthy nutrients into your diet.  Problems with a variety of parasites as well as Candida can be treated effectively with coconut oil.
Use Milk.  We aren't talking about regular milk you would put in your tea or coffee but rather healthy milk such as coconut milk.  You can use one half cup of water and one half cup of coconut milk or use one cup of coconut water, whichever you prefer.  This will thicken up the smoothie and make it creamy but not stodgy.  Parasites hate coconut as it can help expel this from the body.
Hazelnut and almond milk are also popular choices if you don't wish to use coconut; there is also hemp milk and even some bio-live yogurt which is a great choice too.  This choice really comes down to you and what you prefer.  Some will stick to coconut water, some yogurt, it is personal taste.  However, regular milk from a cow and some soy milks may not be the best to add here, so maybe try and avoid these if you can.
The Optional Extras.  Fresh cloves are particularly good when it comes to removing parasite eggs and may be something you want to consider.  However, please note, for this papaya seed smoothie, it isn't a must just an optional extra.  You may find the smoothie can be more effective with fresh cloves but again, it's your personal choice.
If you were to use fresh cloves, note a change in the flavor.  Sometimes, the flavor is something you can handle but the aftertaste leaves something to be desired.  It isn't too much of a strong flavor altogether or even in part because since there are lots of ingredients, they all mask one another in some ways.
When you use cloves, if you want to, they should be added first or at least straight after the papaya seeds.  The reason why is simply because you want the cloves to be as ground-up as possible. Fresh cloves like these are the ones you want to focus on.  These are the best and more effective of all choices.
Blending Time.  The last step in this smoothie making recipe will be to blend everything together.  When everything has been added to your blender, you need to blast the ingredients so that you get a nice looking smoothie.  Get the consistency you like and if you find it's a bit too thick for your liking, just add some coconut water or regular water depending on your likes.
It would be best to consume to entire smoothie in one go.  There shouldn't be any bitterness from cloves or the seeds as the pineapple and papaya should mask these.  Hopefully you'll enjoy the taste and it may just solve your intestinal parasite issues.
When Should Papaya Seed Treatment Be Used and For How Long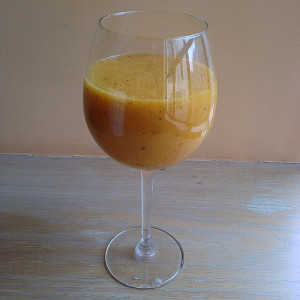 Ideally you want to consume the papaya seed smoothie on an empty stomach so usually in the morning.  Don't eat and then have the smoothie, drink it before you have any foods whatsoever.  It will work best on an empty stomach.
A natural laxative may also be required.  This is because the treatment can stun some parasites and paralyze them but unfortunately cannot kill them.  Most parasite treatments don't kill the parasite; it has to be passed which is something most don't like.  However, by using a natural laxative it should remove most worms.
One of highly recommended laxatives is Ayurvedic triphala powder but this should only be used occasionally.  This powder isn't designed for constant use just occasional use which some people seem to forget.  It isn't generally necessary or healthy to continue to take laxatives over the course of several days or weeks.  Consume the laxative after the smoothie and allow it to work – it shouldn't take too long.
Taking triphala for digestive health can be OK but follow the directions very carefully on this.  You should only use it two to three hours after the smoothie has been consumed.  Also, don't eat anything before taking the laxative.  The smoothie will probably be very filling so you probably won't find yourself too hungry anytime soon.
Food grade and cold pressed castor oil are also powerful laxatives and they too can be used after the smoothie.  However, castor oil is very powerful stuff at the best of times and if you plan to take this ensure you don't have to leave the house to run a few errands.  You will need to stick close to home after using this.
Castor oil doesn't always agree with everyone as it can be quite strong.  There have been some reports of people having some discomfort and intestinal pain.  For this reason, you have to be very careful with it and if you are pregnant or currently have gastrointestinal disease, do not use it.  Should you decide castor oil is for you follow the correct dosage.  One tablespoon of castor oil should be enough and probably best to start with.
If you use castor oil, you may want to get rid of the aftertaste which doesn't always agree with everyone; lemon juice is good as are most citrus juices.  Of course, castor oil is strong stuff and it does work which may be very useful to you.  However, if you use castor oil, do not use it any more than five days.  When using this for consecutive days, you need to ensure you don't use it after five.  You may find taking this for only a day or two is best.
You might not want to hear this but sometimes, you may be able to see  a few signs the treatment is working.  When you are in the bathroom, there may be a sign or two that the treatment is working.  You don't need to investigate this of course but something worth mentioning.
If you do happen to see parasites or something unusual with your stools, don't panic just yet; it may be the treatment working.  Since the smoothie combines a lot of healthy ingredients, most of which parasites dislike, it means the chance of getting rid of intestinal parasites is much easier.
Also, after the first cleansing there should be some signs the symptoms of intestinal parasites are reducing.  Bowel movements should also be improved upon too which is very useful in this case.  When this happens, your health can be much more positive and you may find energy levels rise once again.
Sometimes however, some symptoms can get worse before they get better.  This is usually temporary but still important to mention.  The smoothie is technically a cleanser for the interior and that can often be tough to handle.  Internal cleansing is often referred as a healing crisis if that makes it sound better.
Once you visit the bathroom, you may start to feel better too.  Hopefully the treatment has kicked in and is working as it should.  Usually your body knows what best and if it's telling you something, listen to it whether good or bad.  If any symptoms continue or get worse then you must seek the help and advice of a professional doctor.
For an initial treatment, you can make the smoothie for three or four days.  You can use it every morning consecutively.  However, note castor oil and triphala when consumed on high doses can often be very effective and that may cause you some difficulty if you have to go to work.  You can still use them but be wary of where you are and where you have to go.
If using a laxative during the week or on certain days isn't suitable then maybe instead use it on the weekends.  Saturday and Sundays are usually the day's most take off so hopefully you can use the treatments here instead.  Just remember, if using laxatives, do not take them after five days.
After you're first treatment phase is over, leave the condition to sort itself out.  Hopefully the problem is significantly fixed by now but if not you can repeat the smoothie treatment.  Wait two weeks from the first phase and do the same again.  You can do this again, wait a fortnight and then try it again.  The reason why two weeks are waited is down to some parasites like pin, tape and hookworms which have a short breeding cycle.
Cleansing the body to remove adult parasites can be very effective.  However, once they have laid eggs, the treatment is a lot harder.  That is why some recommend repeating the smoothie treatment over the course of six weeks so that it prevents more breeding.
A three month treatment can also be undertaken as a few recommend this.  Hopefully this is down to you; you may not feel comfortable doing this pass the six week period.  You just need to ensure the parasites have been dealt with effectively.
The ingredients found within the papaya seed smoothie is really very nice and tasty and so healthy too.  There are a dozen or more positive digestive health benefits here from the many ingredients.  If you like, you can use this as a prevention to keep the parasites away.  Some use it every two to three weeks on Saturdays and Sundays.  This is down to whether you feel comfortable doing this.
Parasites are all over the place!  Despite your best efforts to keep away from them, there are a number of simple ways in which humans can be infected.  It is no longer in so-called third-world countries which see the effects of intestinal parasites, they are truly everywhere.  However, if you use papaya seed smoothies, it may be able to help treat and prevent parasites.  You may find your health is generally good and energy levels are positive again.
What Are Alternative Parasite Products Which Are Also Effective?
Some parasite products can be used in-conjuncture with papaya seed smoothies or as a standalone tool.  There are a few which you may be happy to use.  They all work a little differently whilst keeping the same goal – to eradicate parasites.
Some parasites are hard to diagnose and as such different treatments are needed.  This might mean you have to use a variety of treatments in order to find the one which is most suited to you.  The following are a few options to consider.
Oregano oil is something which few have heard of but it is one which is very effective.  When it comes to fighting parasites like blastocystic hominis, oregano oil can really help.  If you are using the papaya seed smoothie you can use Enteric coated capsules as well.  It will make the treatment very strong indeed.
Candida growth may also be controlled with these capsules.  Parasite infections often work in pairs and when oregano oil is used it can combat both of these issues.
Black walnut, cloves and wormwood are also very good parasite treatments.  It was Dr Hulda Clark which first made these known for their parasitic treatments and are very effective.  The potency of them can vary somewhat but when consumed in the right manner they are useful for the entire body.
Oxy-Powder is made from an organic germanium-132 and oxygenated magnesium and can be quite effective.  This is something a lot of people use regularly in order to cleanse their colons and remove parasites within the area also.
Oxy-Powder capsules can be consumed at night, six in fact, before heading off to bed and consuming the papaya seed smoothie.  This may really give the seeds within the smoothie a boost and become a lot more effective also.  The powder will effectively reduce the amount of areas for the parasites to hide making it much easier to remove.
Created by American wormseed, many herbs, black walnut, organic cloves and wormwood, Paratrax is very popular.  This will help to kill off the parasites within the intestinal tract.  In fact, this was designed by Global Healing Center, by Doctor Group.  This is very easy to consume and can be quite promising also.
Pro-biotic is something you need back in your body and once the parasite treatment is over, you need to ensure you repopulate the micro-organisms within the intestinal tract.  Latero-Flora is important and something which can restore the balance of good bacteria.
Latero-Flora is very important because the organisms, Bacillus Laterosporus will go up against bad bacteria.  This means the good bacteria will do what they can to remove the bad bacteria actively ensuring the balance between a health body and unhealthy body sways to the healthy side once again.
Is Parasitic Cleansing Really Necessary And Does It Work?
Some say parasitic cleansing is too much hard work but it can be very important.  There have been many who find once they have used papaya seeds to combat parasites, they feel much better.  This is why this treatment is very popular today.  It can be very much necessary at the best of times even when you don't believe so.
Knowing More
For anyone who wants to talk about parasite treatments,  go read our Eating Papaya Seeds for Digestive Health article.  Here you will be able to find out a lot of comments about the cleansing treatment as well as get to know what others think.
If you think you have issues with intestinal parasites or are worried about any health issue, you must contact a doctor.  This is something which is crucially important because doctor and physicians and healthcare workers are professionally trained and can assess you.  You may find there is nothing seriously wrong but you never know.
While you can read up a lot about different ailments and conditions online, the doctor is the best person to seek advice from.  If you aren't happy with what the doctor tells you then consult a specialist in this medical field.  There are in fact many parasite specialists who will be only too happy to help.
Always speak to a professional healthcare worker about any concerns you have concerning intestinal worms or parasites.  They know what they're talking about and are more importantly qualified to handle these matters.
Good luck.