There are certain aspects of gym etiquette that should be followed at all times. Everyone is there for the same reason, to work out and break a good sweat. Nevertheless, nobody wants to pick up a dumbbell covered in someone else's  perspire! Therefore, it is important to have a gym towel with you at all times. But what are the best gym towels available? We have done some research in order to give you the ones currently available.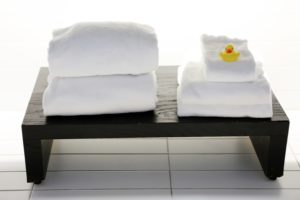 Gym towels are important for your own personal hygiene. Realistically, no one wants to take a shower without having their own towel to hand. It is advisable not to use public towels available at the gym, think of them as decoration to make the locker rooms more aesthetically pleasing! First of all, how clean are they really? Have you seen someone actually wash that towel before you dare to use it? Or was it used, dumped on the floor and then a cleaner has simply folded it away nicely? Even if it was washed, the CDC has declared that the most infectious and highly resistant pathogen found in gym locker rooms currently is MRSA! Is that really a risk you are willing to take simply to skip buying a gym towel?
Of course, when buying a towel there are a lot of factors to consider. The size you will need, the level of absorbency and the comfort it offers. With that said, even narrowing the search to meet your requirements will still leave you with an abundance of products for you to choose from. That's why I have looked into the top 10 gym towels currently on the market and I have listed them below. I have also included some pros and cons for each as well as my ultimate favorite.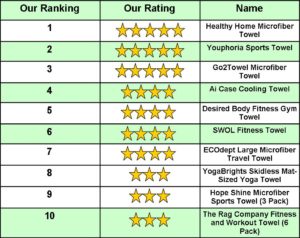 Which Types of Material Make the Best Gym Towels?
Microfiber:
In truth, microfiber is the most popular material available. It is probably the most innovative materials currently on the market. Microfiber is loved by so many firstly because it allows you to fold it incredibly small when packing it away. This is incredibly helpful not only for fitting in your gym bag but also for holidays, travelling and so forth. It also expands greatly when you are ready to use it. They dry incredibly quickly and are super absorbent, soaking up to 8 times their weight in liquid. Probably the biggest benefit to microfiber is they resist bacteria making them more sanitary and hygienic. The only slight downside to microfiber is they are more difficult to wash. Therefore you can't just throw them in the laundry, they need a little bit of TLC.
Cotton:
Cotton are generally the most used towels towels available. Everyone has an abundance in their bathroom closet. Obviously they are incredibly soft on skin and they are excellent for keeping you warm after you get wet. However, unlike microfiber cotton does not fold well into a small space. Also, cotton tends to get heavier with the more water it absorbs. Therefore, neither of these are a great option for in your gym bag. Moreover, cotton picks up a lot of dirt so you need to ensure it doesn't fall on the ground. It appears that cotton towels are probably better used at home than in the gym.
Bamboo Fiber:
Bamboo fiber is for sure the most luxurious towel you will find. Sometimes called "exotic", these towels are either 100% bamboo or a mix of bamboo and cotton. Bamboo towels are really eco-friendly, they are also very anti-bacterial and anti-fungal, something you want in a gym towel for sure. They are however, usually quite expensive. But if you're willing to invest a little in a gym towel that helps you go green, then bamboo could be the best gym towels for you.
Top 10 Best Gym Towels
#10 – The Rag Company Fitness and Workout Towel
Average Price – $15.00 – $20.00
Size: Large
Material: Microfiber
So you are a hardcore gym fanatic. You hit the weights 6 days a week and you love nothing more. Annoyingly though, you have to wash your gym towel every day to be fresh as a daisy for your next session. If this sounds like you, then this product is a really great option. Let me give you a bit of an idea.
Firstly, this is a large multi-pack of 6 microfiber towels. Meaning you have a fresh gym towel all week (assuming you take at least one rest day) without even needing to do laundry. Now you're probably wondering if they are a good quality when they are sold in a large set, well let me tell you. These towels are lightweight and super soft. They are also a great size for throwing on a bench or simply having draped over your shoulders.
OK, I'm nearly done but one important thing to mention with these towels is they need to be washed before they are used for the first time (personally I do this with all towels but not everyone does). With washing they get softer and if you don't wash them first they may smell a bit when you use them!
Multi Pack
Microfiber
Large Size
Lightweight
Click here to see reviews on Amazon
#9 – Hope Shine Microfiber Sports Towel (3 Pack)
Average Price: $5.00 – $15.00
Size: Large
Material: Microfiber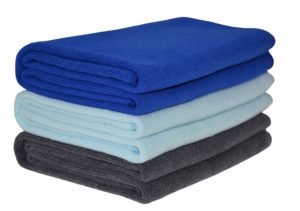 If you are the kind of person who hates taking just one towel to the gym then this is another multi pack option which is a great buy. Let me start by saying that these microfiber towels are large yet lightweight. They come in an array of colors to choose from assured to suit everyone. Wait, there's more. Coming in a set of three allows you to have a towel for each use in the gym. You can easily have one for wiping sweat, one for drying your face and one for after your shower. This ensures keeping your personal hygiene levels high.
They are highly absorbent and quick drying. Not convinced? The best thing about these towels are they are a super great price. Needless to say, if you are looking for a good towel at a great price then these could be the best gym towels for you.
Multi Buy
large Selection of Colors
Microfiber
Highly Absorbent
Lightweight
Soft on Skin
Excellent Price
Click here to see reviews on Amazon
#8 – YogaBrights Skidless Mat-Sized Towel
Average Price: $10.00 – $15.00
Size: Large
Material: Microfiber

Do you have a closet full of towels? Do you need one for each specific activity simply because you can't find an option that suits all of your activities? This towel is a great option for the gym user who also loves to participate in the occasional workout or yoga class.
Will it work for you? Maybe, maybe not. But this product is specifically designed to not only be super absorbent as a towel, but also work as a mat underneath you while performing exercises. This towel would also be great to use while performing crunches etc. But wait, that is not all! They soft on your skin and are available in a wide variety of vibrant colors. In addition they also come at a really great price. All round, people who have used these towels seem to love them.
Multi Purpose
Bright Colors
Large size
Microfiber
Absorbent
Soft
Lightweight
Good Price
Click here to see reviews on Amazon
#7 – ECOdept Large Microfiber Travel Towel
Average Price:$20.00 – $30.00
Size: Large
Material: Microfiber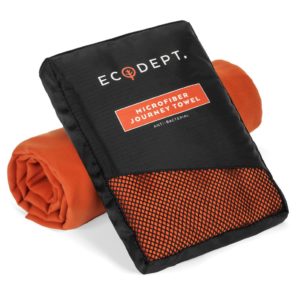 Okay, lets get down to business. If like me, you're a bit of a germ freak, this could be an excellent option for you. Why? Well this product is made from Genuine Antibacterial microfiber. What does that mean for you? Well, this means that not only is this product resistant to bacteria therefore less likely to pick up bacteria in between using it over and over in the gym. But you could leave it in a locker and it won't get that horrible damp smell.
Another great feature this product has that I think all towels should include is a corner zip pocket. It can be so annoying if you don't want to leave your keys and cell phone in your locker, I mean, where can you store them? This way you can slip them into your towel securely and they aren't going to interfere with your workout like keeping them in your sweats!
This product come in a wide variety of colors and include a breathable, water-proof bag. It has a hanging loop for easy drying and reportedly dry in half the time of a standard cotton towel. They are super absorbent, soft on skin and fold up to a really small size making it easier to pack into your gym bag.
The only thing I will say about this towel on the downside is it is a little more expensive than some of our other options.
Large Size
Genuine Antibacterial Microfiber
Corner Zip Pocket
Includes Waterproof Bag
Absorbent and Quick Drying
Soft on Skin
Wide Variety of Colors Available
Click here to see reviews on Amazon
#6 – SWOL Fitness Towel
Average Price: $20.00 – $30.00
Size: Medium
Material: Bamboo Fiber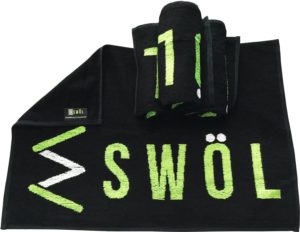 You will be glad to know this is another great option for those who love anything antibacterial. The Swol Fitness Towel is superior to its microfiber and cotton counterparts in a number of ways. Another thing is, this product is top when it comes to ratings across the internet. Getting great reviews from users, this seems like an all round great product.
Made from almost futuristic bamboo fiber – not the same stuff you feed for pandas, don't worry! This towel is anti bacterial and therefore is fresh smelling. Even better, this towel is 3.5 times more absorbent than cotton. Meaning no soggy towels thrown in your gym bag at the end of your workout session.
This product is luxuriously soft, is anti static unlike microfiber and is incredibly durable. Again, this towel is slightly more expensive than some of the other options available, especially for a single towel. With that said, a slightly higher price is expected with exotic towels. Also it has a very bod design which may not be to everyone's taste. Nevertheless, If you want to make a small investment for a lot of luxury, this could be the best gym towel for you.
Exotic Bamboo Fiber
Size Specifically for Gym Use
Antibacterial
Extremely Absorbent
Highly Durable
Anti Static
Bold Design
Click here to see reviews on Amazon
#5 Desired Body Fitness Towel (2 Pack)
Average Price: $15.00 – $25.00
Size: Large
Material: Microfiber
Let's assume you and your significant other love hitting the gym together. Now let's also assume that no matter how much you love that person you're not willing to share one sweaty towel! So what is the solution? Matching towels of course!
This pack of two towels is a great option for you and your gym buddy or just to have a spare in between washes. With a unisex, white waffle design which is quick drying and odor free. Another product offering excellent absorption while being incredibly lightweight.
Over all, this product seems to get good reviews from previous users and is a good buy for the price. This is why we have chosen to list it as one of the best gym towels.
Microfiber Material
Waffle Design
Reinforced Silky Border
Odor Free
Quick Drying
Lightweight
Absorbent
Click here to see reviews on Amazon
#4 – AICase Cooling Towel
Average Price: $5.00 – $15.00
Size: Medium
Material:  Polyvinyl Acetate (PVA)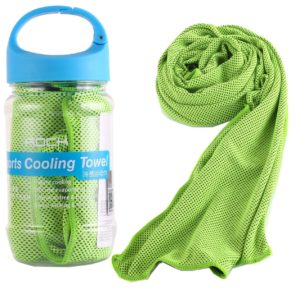 Yes, you read that right a cooling towel! So I will be honest, this isn't really the best towel for using when you hit the showers. Nevertheless, this is the best gym towel for keeping you cool while you're sweating it out in a HIIT workout!
This product is made from PVA which is designed to resist evaporation. Therefore, you simply wet it and it stays cool. Think I'm exaggerating? Because this cooling towel does not evapourate like a normal towel, the more water you put into it, the slower it evaporates and the longer it stays cool for!
Plus it is cool, not cold like a wet cotton towel. Placing a cold towel on hot skin makes your temperature drop rapidly. This is detrimental to the body. Yet the cooling towel lowers your temperature slowly and is therefore safer to use.
Made from PVA
Cooling Sensation
Keeps Body Temperature Lower
Makes You Sweat Less
Good Price
Click here to see reviews on Amazon
#3 – Go2Towel Microfiber Towel
Average Price: $10.00 – $20.00
Size: Large
Material: Microfiber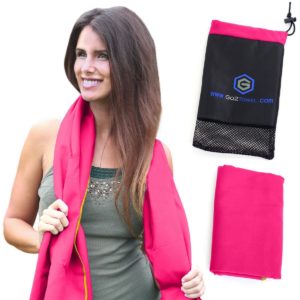 Now at this point we are getting to the top dogs when it comes to the best gym towels. Final 3 is a big deal my friends! So what is so special about this product? Well yet again we have another microfiber towel, with similar features to most of the others. As always, I wouldn't show you anything that wasn't super soft and extra absorbent – those things pretty much go without saying by now!
Other added benefits with this product include a hygienic coating which prevents build up from bacteria as well as reducing chances of mold or fungi while maintaining a fresh smell. It has a loop attached in order to hang it up for rapid drying. Plus, it can soak up to 10 times its own weight in liquid.
One of the main reasons I placed this towel quite high up on the list is because it rates really highly with everyone who has used it previously. There are hardly any bad reviews across the internet for this product and everyone genuinely seems to love them. They also come in a wide variety of vibrant colors and includes a small carry bag. Not only this but they are also a reasonable price. What more could you ask for?
Microfiber Towel
Hygienic Coating
Wide Variety of Colors
Reasonable Price
Includes Carry Bag
Includes Drying Loop
Click here to see reviews on Amazon
#2 – Youphoria Sports Towel
Average Price: $10.00 – $20.00
Size: Large
Material: Microfiber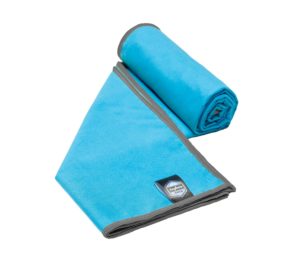 Now before I go on, it is probably important to mention that although this product isn't residing in the top spot, it is a best seller online. According to athletes and gym fanatics this is for sure one of the best gym towels you can buy. The Youphoria towel has a very tight knit design which means it absorbs more water (or sweat) as well as being dirt resistant. These towels also claim to dry up to 10 times faster than your average cotton towel. Heck, you can't say that's not useful when you're sweating it out in the gym! Nobody wants to try and dry their face with an already sweat soaked rag!
This product comes with a mesh carry bag and also a hanging loop (to assist that super fast drying process). It is a very large size so is great for wrapping up after a shower and as it dries quickly you can know that at least you wont have to shove a soaking towel into your gym bag. It is soft to the touch with a suede feel. Despite its large size it manages to roll itself up small enough to squeeze into a relatively small carry bag. This of course is great as no one wants to fill their gym bag simply with a towel! All in all, at a reasonably good price it seems like a great option.
Large Towel
Folds to Small Size
Very Absorbent
Very Soft Feel
Tight Knit Design
Includes Carry Bag
Click here to see reviews on Amazon
#1 – Healthy Home Advanced Microfiber Towel
Average Price: $15.00 – $25.00
Size: Small, Medium and Large
Material: Advanced Microfiber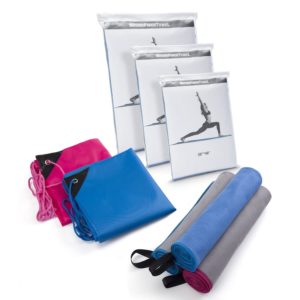 So here it is the moment you have all been waiting for, the creme de la creme, the king of the castle, the towel to beat other towels. But hang on a minute, you must have some questions. First of all, why? What makes this towel one of the best gym towels? Well hang on to your seats my friends and I will announce why this product is superior to all others.
Firstly, this towel is made from an advanced microfiber. That in itself should automatically tell you this is a little bit ahead of the game than all the others. Of course it has all the same properties as the rest, but most are a little bit better. It is ultra absorbent, soaking up to 9 times its own weight yet still managing to dry up to 300% faster than a standard cotton towel. It is incredibly small when rolled as well as very lightweight meaning it is super easy to transport around.
The towel is made from a unique antimicrobial fabric which ensures it stays sanitary for longer. Although many towels offer a free carry bag, Healthy Home obviously decided that this simply wasn't good enough. So this towel comes with TWO carry bags. One is waterproof which you can slip your towel inside to keep it separate from your other belongings if you're in a rush and don't have time to let it dry. The second is what they call a "liberty bag" which is basically a little gym bag you can use to carry your towel and your other bits and pieces.
As if that wasn't enough, it is available in 3 sizes, a small, medium and large option. This is truly excellent as lets face it, we all have personal preferences and more often than not, "one size fits all" just isn't the right fit for you personally!
Advanced Microfiber
Range of Available Sizes
Antimicrobial Fabric
Incredibly Absorbent
Two Carry Bags Included
Click here to see reviews on Amazon
And The Winner Is
For me personally, the Healthy Home Advanced Microfiber towel is the clear winner. Don't get me wrong, all of our top 10 would make an awesome purchase as we picked the best of a huge amount of products. However, this towel just seems to got the extra mile.
So, now you know the importance of having your own towel as well as the best gym towels currently on the market, you can get yourself a great one today.
The following two tabs change content below.
Jenny A
Jenny Abouobaia is a professional health and fitness writer who to date has written over 500 articles for numerous publications. Jenny first found her love of fitness as a 7 years old girl through a passion for competitive dance. Throughout her adult life, Jenny has had a successful international career as a professional dancer and choreographer, working across 5 continents in everything from Hollywood movies to prestigious live shows such as the MTV Awards. Jenny went on to study at Northumbria University in the UK and become a qualified personal trainer and fitness instructor. She also holds professional dance teaching qualifications as well numerous dance fitness qualifications such as Zumba. Through her passion for fitness Jenny discovered her love of writing and now writes professional full time in the health, fitness, nutrition and bodybuilding niches